Contact Us
Dr. Kem Louie
Program Director, Department of Nursing
louiek@wpunj.edu

973-720-3215
Doctor of Nursing Practice (DNP)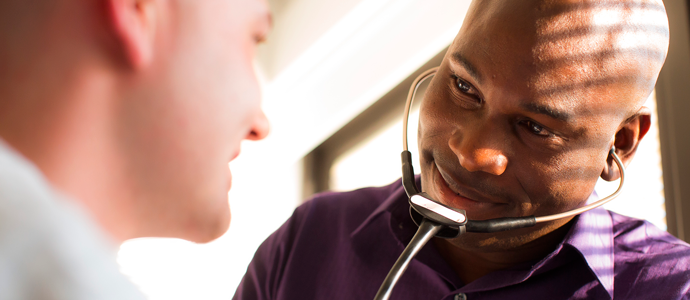 Degree Offered: Doctor of Nursing Practice
Application Deadline:
June 1
Non-degree status not available
Program Description:
The Doctor of Nursing Practice (DNP) is a practice doctorate that prepares advanced practice nurses to be clinical scholars and thought leaders. The DNP program will prepare nurses with knowledge and skills to deliver the highest standard of care for individuals, families, communities and work in interdisciplinary teams in today's complex healthcare system.
The Post Masters DNP curriculum includes 41 credit hours that can be completed in seven semesters of full-time study (two courses per semester). Course work includes: utilizing technology to advance the quality of care; evaluating health care policy; providing leadership and inter-professional collaboration in multiple health care settings; and evaluating systems responses to health and illness, along with knowledge of nursing theories, related sciences, humanities and economics. Students must also complete a minimum of 1,000 supervised post Baccalaureate practice hours. There are two tracks, the advanced practice clinical track for certified advanced practice nurse and the advanced practice administrative track for a masters prepared nurse administrator(s).
Upon successful completion of the DNP, graduates will be able to:
Provide advanced nursing care to individuals, families, communities, and clinical populations.
Appraise and utilize current technologies to advance the quality and accessibility of care.
Critique and selectively translate science to guide clinical decision-making and program development.
Evaluate and influence health care policy and systems.
Provide leadership and inter-professional collaboration in multiple health care arenas.
Evaluate systems responses to health and illness as a basis for the promotion, restoration, and maintenance of health and functional abilities and the prevention of illness.
Integrate advanced knowledge of nursing theories, related sciences and humanities, and methods of inquiry.
Initiate changes in the healthcare system through the design and implementation of health related projects that strengthen the outcomes in the healthcare delivery system.
Admission Requirements:
In addition to the University's admission requirements:
Master's degree with a major in nursing (advanced clinical practice or nursing administration/management) from a program accredited by the Commission on Collegiate Nursing Education (CCNE) or National League for Nursing Accrediting Commission (NLNAC).
Minimum grade point average of 3.3 (on 4.0 scale) on prior graduate-level course work.
Courses in both statistics and research at the graduate level.
Current unencumbered New Jersey registered nurse license to practice professional nursing.
Work experience as a registered nurse for a minimum of one year.
Advanced practice nurses (NP or CNS) must submit a copy of their current national advanced practice certification. Administration/management master's prepared nurses may submit national advanced certification if obtained.
Verification of the number of supervised clinical hours in the MSN program.
Three letters of recommendation that attest to applicant's academic qualifications.
Essay discussing professional goals focusing on recent experience, how the DNP will enhance the applicant's professional development, and career goals upon completion of the program.
Curriculum vitae or resume.
All applicants being considered for admission may be interviewed.
Program Requirements:
41 credits of graduate study*

1000 superevised clinical hours accumulated

| Doctor of Nursing Practice (DNP) | 41 credits |
| --- | --- |
| NUR 7100 Applied Biostatistics | 3 |
| NUR 7300 Scientific Foundations for Nursing | 3 |
| NUR 7320 Information Systems Management | 3 |
| NUR 7340 Health Policy | 3 |
| NUR 7360 Clinical Health Promotion and Disease Prevention in Advanced Practice Nursing | 3 |
| NUR 7380 Leadership and Collaboration | 3 |
| NUR 7400 Evidence-based and Translational Methods of Nursing Knowledge and Practice | 3 |
| Cognate | 3 |
| Cognate | 3 |
| NUR 8300 Doctor of Nursing Practice Project | 2 |
| NUR 8301 Doctor of Nursing Practice Project Advisement I | 1 |
| NUR 8310 Doctor of Nursing Practice Project II | 2 |
| NUR 8311 Doctor of Nursing Practice Project Advisement II | 1 |
| NUR 8350 Doctor of Nursing Practice Practicum I | 2 |
| NUR 8351 Doctor of Nursing Practice Practicum II | 2 |
| NUR 8360 Doctor of Nursing Practice Practicum III | 2 |
| NUR 8361 Doctor of Nursing Practice Practicum IV | 2 |
| *Documented 1000 post-BSN supervised practice hours | |