Faculty Honored for Achievement in Scholarship, Teaching, and Service During University's 2017 Commencement Ceremony
Corey Basch, associate professor of public health, Maria Kromidas, associate professor of anthropology, and Kevin Martus professor of physics, were honored for their outstanding achievements in research, scholarship, and creative expression; teaching, and service, respectively, as the recipients of the 2016-17 Faculty Excellence Awards.
The three honorees, who were selected by a faculty committee, were recognized by Provost Warren Sandmann during the University's 2017 Commencement ceremony for undergraduate students on May 19 at the Prudential Center in Newark. The awards were instituted in 2004 to recognize faculty achievement and contributions as the University celebrates the success of students at their graduation.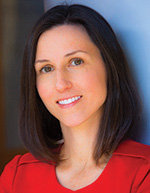 Basch is a public health researcher and scholar whose interests include cancer education, cancer screening, and health communication. Much of her research is focused on reducing health disparities in low-income urban minority populations. Topics have ranged from the effects of technology on health and safety to health communications via YouTube. She is the author of more than 120 scientific papers in peer-reviewed journals, and more than 60 of these papers include students or alumni of William Paterson University as co-authors. Basch has presented her research at numerous conferences and is a guest editor for a special issue of the Journal of Prevention and Intervention in the Community. A graduate of the University of New Hampshire with a bachelor's degree in nutritional sciences, she holds a master's degree in public health from the University of Massachusetts, Amherst, master's degrees in cognition and learning, communication and education, and nutrition education from Teachers College, Columbia University, and an interdisciplinary doctorate in health education and humanities from Teachers College, Columbia University.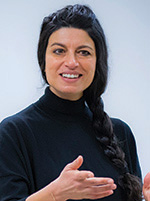 Kromidas is a cultural anthropologist specializing in racial formation in the United States, anthropology of childhood and youth, cosmopolitan urbanism, and educational inequality. She teaches courses on a range of topics, such as anthropology of social movements, diversity and equity in schools, and research methods. Much of her teaching is grounded in her students' and her own experiences, which include three years as a teacher in a New York City public school and, most recently, as a researcher who spent more than a year observing and interviewing fifth graders both inside and outside the classroom in one of New York's most diverse neighborhoods to explore how they developed their understandings of race. Her findings are detailed in her recent book, City Kids: Transforming Racial Baggage (Rutgers University Press, 2016). The author of numerous publications and presentations, Kromidas holds a bachelor's degree in biological anthropology from the University of Michigan, and master's in anthropology and education from Teachers College, Columbia University, and a doctorate in anthropology from Columbia University.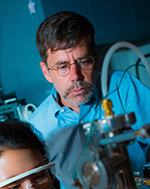 Martus is a physicist specializing in atomic, molecular, and plasma physics. His research interests include the analysis of optical emissions from plasma discharges and plasma surface interactions. He regularly mentors undergraduate and graduate students in research projects, as well as high school students conducting summer research. The recipient of a 2010 National Science Foundation Award in support of a sophisticated imaging spectrograph for research, he has written numerous journal articles. Professor Martus, who currently serves as chair of the Department of Physics, is a member of the Faculty Senate, a role he has held since 2003. He has served as a member of the Faculty Senate Executive Committee (2006-07 and 2013-14); chair, co-chair, and a member of the Research Council; and a member of numerous committees, task forces and councils. A graduate of Kean university with a bachelor's degree in mathematics, he holds master's and doctoral degrees in physics from Lehigh University and conducted postdoctoral research at NASA's Jet Propulsion Laboratory.
Each honoree received a plaque, a citation, and a $1,000 award for professional development activities such as research assistance, conference attendance, training and travel.
05/11/17