N.J. Sen. Paul Sarlo to Give William Paterson University Commencement Address and Receive Honorary Doctorate On May 19 At The Prudential Center
--Maureen Conway '66, retired senior executive at Hewlett-Packard, will be awarded an honorary doctorate

Sen. Paul Sarlo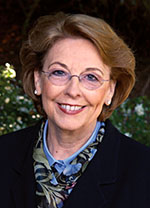 Maureen Conway
Sen. Paul Sarlo, deputy majority leader of the New Jersey Senate, will give the keynote address at William Paterson University's undergraduate commencement ceremony on Friday, May 19, 2017. The ceremony will be held at 9 a.m. at the Prudential Center in Newark. Sarlo also will receive an honorary doctor of laws degree.
"Sen. Sarlo serves as an advocate for higher education in his role as chair of the Senate Budget Committee and as a member of the New Jersey Senate Higher Education Committee. We are proud of the fact that he chose to begin his college work at William Paterson University and remains a friend of the University and our students," says President Kathleen Waldron. "We are delighted that Sen. Sarlo will join us to speak to our graduates about the importance of civic engagement and public service, values that we embrace on our campus."
Maureen Conway, a 1966 graduate of William Paterson University, will receive an honorary doctor of humane letters degree at the ceremony. A retired senior executive at Hewlett-Packard Company (HP) who served as vice president for HP's Emerging Market Solutions Group, Conway served as a member of the University Board of Trustees from 2011 to 2016, including a term as vice chair.
"Maureen Conway has been a loyal alumna, who after a long and distinguished career returned to her alma mater, serving on our Board of Trustees and Foundation board. She was instrumental in the development of our Pioneer Leadership Institute, which helps our students develop critical leadership skills," says President Waldron. "We are proud and delighted to present her with this honorary degree."
The commencement also will include a speech by a Jessica Geary of Clifton, who will receive a bachelor's degree in earth science. A separate ceremony will be held for master's degree candidates on Wednesday, May 17, at 7 p.m. in Shea Center on campus. A total of more than 2,600 bachelor's, master's, and doctoral degrees are expected to be conferred. Alumni from the Class of 1967, who graduated when William Paterson was called Paterson State College, will be present at the undergraduate ceremony along with members of the Pioneer Society, those alumni who graduated at least 50 years ago.
Sarlo, the New Jersey Senate's deputy majority leader, serves as chairman of the Budget and Appropriations Committee, and is a member of the Judiciary Committee, the Higher Education Committee, the Joint Budget Oversight Committee, and the Senate Legislative Oversight Committee. He is a former chairman of the Judiciary Committee and the Labor Committee.
As a legislator, Sarlo has been the prime sponsor of more than 200 bills which have been signed into law. He was a prime sponsor of legislation which reformed New Jersey's workers' compensation system, established the "Main Street Business Assistance Program," criminalized the illegal trafficking and distribution of prescription drugs, required schools to adopt bullying prevention policies, and upgraded penalties for identity theft. He also sponsored laws dealing with ethics reforms, energy efficiency, environmental protection, homeland security, and consumer protection.
His career in public service spans more than two decades. He has served as mayor of the Borough of Wood-Ridge since 2000 and served on its Borough Council from 1995-2000. In 2001, he was elected to the New Jersey General Assembly, a position he held until May 2003 when he was sworn in to the New Jersey Senate to fill an unexpired term. He was elected to a full term in the New Jersey Senate in November 2003 and was re-elected in 2007, 2011, and 2013. Sarlo represents the 36th legislative district, which includes 15 municipalities in Bergen and Passaic counties.
A licensed professional engineer, licensed professional planner, and a certified municipal engineer, Sarlo holds B.S. and M.S. degrees in civil engineering from New Jersey Institute of Technology, where he was a Division III All-American in baseball.
Conway held various executive positions at HP from 1989 until her retirement in 2005. Most recently, she was responsible for HP's Emerging Market Solutions Group, pioneering a new approach that applied technology and business model innovation to the social and economic needs of developing economies. Her work received many awards in India and the Republic of South Africa. In 2005, the approach, results, and impact were described in Thomas L. Friedman's bestselling book on globalization, The World is Flat.
Earlier, Conway served as vice president and chief information officer for HP; she received the Solomon Smith Barney CIO of the Year Award in 2002. Prior to joining HP in 1989, she spent 20 years in technical management positions at Bell Laboratories, Computer Corporation of America and Apollo Computer. She began her career as a high school mathematics teacher at Palisades Park Junior/Senior High School.
A native of North Bergen, she is a graduate of William Paterson with a bachelor's degree in mathematics. She holds a master of science degree in mathematics from Montclair State University and a master's degree in business administration with an emphasis in management and organizational behavior from Temple University. Honored in 2003 by the William Paterson Alumni Association, which presented her with the Distinguished Alumni Award, Conway received the President's Medal and delivered the commencement address in 2006. She is a past member of the William Paterson University Foundation Board, on which she served from 2006 to 2011. In 2006, she established an endowed scholarship to support a student in the College of Science and Health.
William Paterson University is a leading public university in New Jersey with nearly 11,000 students and 73,000 living alumni. The third oldest public institution in the state, the University was chartered in 1855 and offers undergraduate, graduate and doctoral degree programs through five academic colleges: Arts and Communication, Cotsakos College of Business, Education, Humanities and Social Sciences, and Science and Health. Located on 370 hilltop acres in Wayne, the University provides a wide range of learning opportunities in its classrooms, laboratories and other state-of-the-art facilities, as well as other opportunities including research collaborations with faculty, internships and civic engagement activities. The institution's 410 full-time faculty are highly distinguished and diverse scholars and teachers, including 41 Fulbright scholars and recipients of numerous other awards, grants, and fellowships.
# # # #
04/12/17