The Greek system has a heritage of over 200 years of endurance and growth. The first American College Fraternity, Phi Beta Kappa, was formed in 1776 at the College of William and Mary. This Greek-letter society provided opportunities to discuss political, academic, and social interests of the young men. A great deal of importance was placed on fellowship of the members, the rights of assembly and free speech and independent decision making. Phi Beta Kappa maintained The Code of Silence which included: secret oaths, badges, laws, seals, grips/handshakes, an initiation ceremony, and mottos in Greek and Latin. This secrecy has become the essential characteristic of modern-day Greek chapters.
Today, all Greek organizations serve primarily as social or service clubs. Ritual secrecy is maintained by tradition, rather than for preservation of political or academic rights.
Although fraternities and sororities have been active at William Paterson University since the 1950's they were first recognized by the administration and the Student Government Association (SGA) in the late '70's. At that time, the SGA chartered the Inter-Fraternity Sorority Council to govern the Greek system. Today's system is similar, but due to growth has become the Greek Senate.
Greeks at WPUNJ are a driving force behind student life on campus. Greeks may be found raising donations for charity, organizing special events for campus entertainment, attending leadership programs, collecting food or clothing to help the less fortunate, or participating in various clubs or organizations.
Being involved in Greek Life offers endless opportunities to gain leadership experience, social and managerial skills,and friendships that will last a lifetime.
Being a member of a fraternity or sorority is about more than just wearing letters. It is about making friendships that will last long beyond your college years. It allows you to experience brotherhood and sisterhood. Members of the Greek community have a strong commitment to leadership, service, and scholarship. You can find Greeks on the William Paterson campus serving as orientation leaders, SGA club officers, building houses with Habitat for Humanity, and graduating with honors. When you join a fraternity or sorority its not four years, it's for life.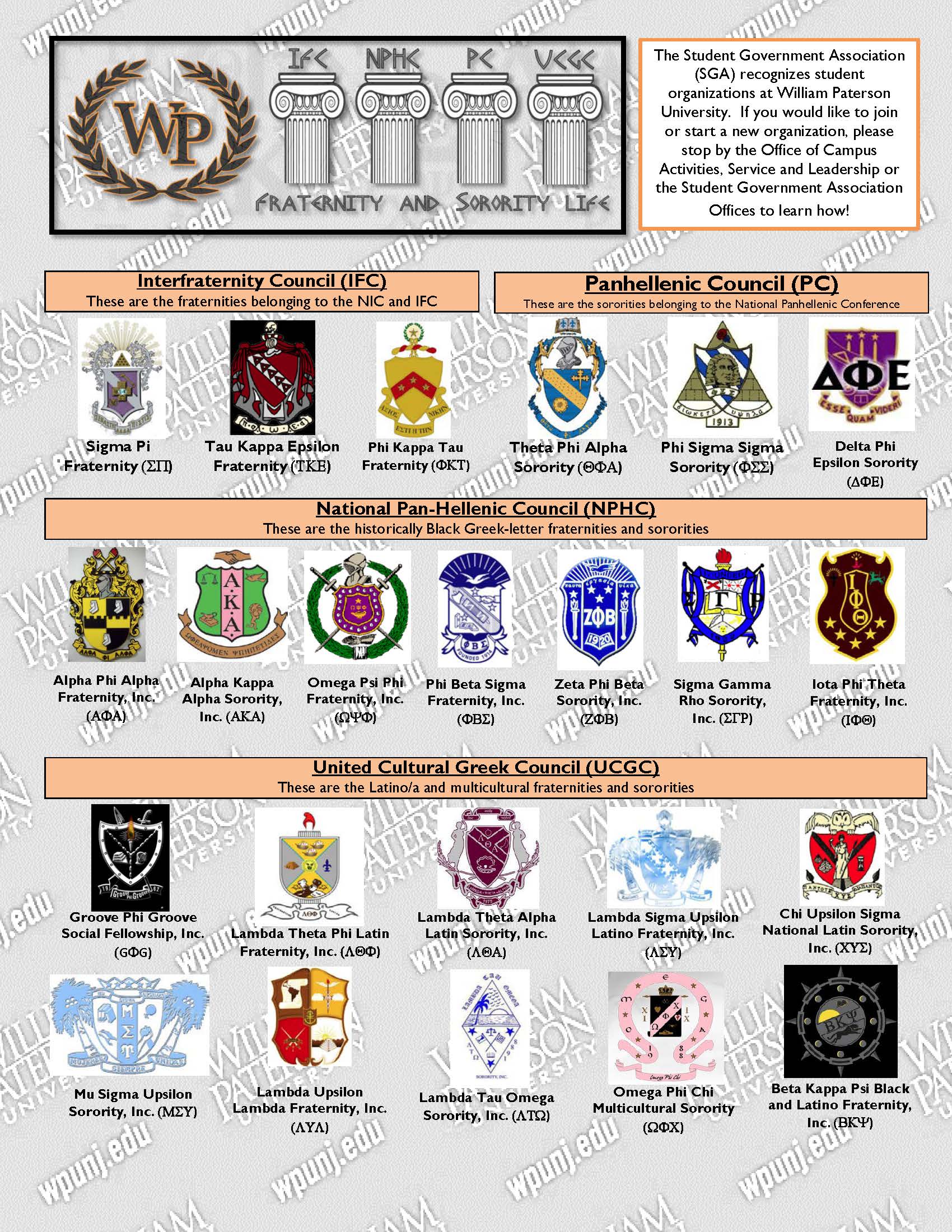 Current Recognized Organizations at William Paterson University:
Quick Policy Reference
Outstanding University Charges
Meet the Greeks Process