________________________________________________________________________
Prabakar Kothandaraman
Executive Director and Associate Professor
Russ Berrie Institute of Professional Sales
William Paterson University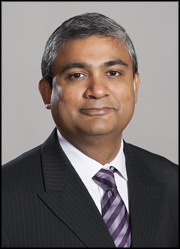 Dr. Prabakar (PK) Kothandaraman is The Executive Director of the Russ Berrie Institute of Professional Sales and an Associate Professor of Professional Sales at William Paterson University. Dr. Kothandaraman has held academic tenure-track appointments at Drexel University and the Texas A&M University and research & administrative appointments at the Harvard Business School India Research Center. In his over 15 years of academic experience, he has taught courses in the area of sales and marketing that include Marketing Strategy & Planning, Industrial Marketing and Sales, Marketing Research, Business-to-Business Marketing, Product Management, Principles of Marketing and Negotiation.

Academically, PK has earned a Ph.D. in business administration from The Pennsylvania State University, an MBA from Xavier Institute of Management, Bhubaneswar (India) and Bachelor of Engineering degree from The Birla Institute of Science & Technology, Pilani (India).
Dr. Kothandaraman started his career as a salesman and has vast key account management experience in the area of high technology selling. Many of the research issues that he focuses on have their genesis in his pre-academic sales career. His current research focuses on buyer-seller relationships, the role of salesperson in CRM and the tools organizations could use to systematically capture tacit CRM knowledge of their sales people. His earlier research contributed to the development of business models that describe competition involving groups of value-creating networks. His other areas of research focus include behavioral pricing and pricing green products.
Dr. Kothandaraman has also written several HBS case studies in marketing, retail, financial services, ethics, high technology services that have been published by the Harvard Business School Press. His research has appeared in Industrial Marketing Management, and the Thexis. He also serves on the editorial board of the Industrial Marketing Management. Dr. Kothandaraman recently served as an UNDP Research Fellow and co-authored the Case Study Initiative as part of the UNDP's 'Growing Inclusive Markets' project. He has also presented his research and won awards in leading academic conferences both here in the US and in Europe and has also been invited to present his research in several leading universities around the world.