Follow the Journey of "Hurricane and Rebirth" Class to New Orleans on Social Media
A Special Topics English class called "Hurricane and Rebirth," is traveling as a group to New Orleans on Friday, March 11, for a week of volunteer work, service learning, lectures and cultural excursions. A link to the Facebook page to follow their journey on this unique experience is as follows: https://www.facebook.com/HurricaneAndRebirth/?skip_nax_wizard=true. The class will be working with some great organizations and participating in some fascinating activities including meeting Mardi Gras Indians, participating in a Vodou ceremony, meeting jazz musicians at the famous Preservation Hall, visiting antebellum plantations on the banks of the Mississippi, taking a tour of the bayou with a park ranger and much more! Dr. James Mellis of the English department coordinated this spring break expedition.
Language Faculty Members Featured on TV
William Paterson University Spanish language faculty members, Ellen Frye, Grisel Maduro, Octavio DelaSuaree, and Maria Tajes, are featured on "El TV segment Beth Marmolejos Negocios y mas," a vibrant program dedicated to Hispanic students and business professionals who are looking to obtain a degree and find a job.
---
President Waldron inducted into Sigma Delta Pi
Dr. Kathleen Waldron, President of William Paterson University and Latin American history scholar, has been inducted into the William Paterson University chapter of Sigma Delta Pi (Sociedad Nacional Honoraria Hispánica) along with current Spanish majors who meet the high standards of this national collegiate society. Sigma Delta Pi's purposes are:
To honor those who attain excellence in the study of the Spanish language and in the study of the literature and culture of the Spanish-speaking peoples;
To honor those who have made the Hispanic contributions to modern culture better known in the English-speaking world;
To encourage college and university students to acquire a greater interest in and a deeper understanding of Hispanic culture;
To foster friendly relations and mutual respect between the nations of Hispanic speech and those of English speech;
To serve its membership in ways which will contribute to the attainment of the goals and ideals of the society.
"!Felicitaciones, Presidente Waldron!"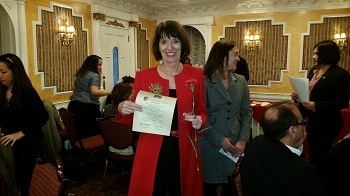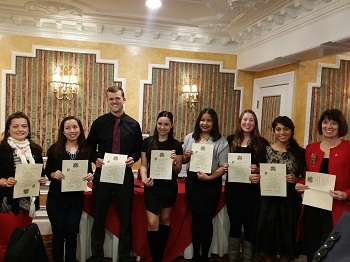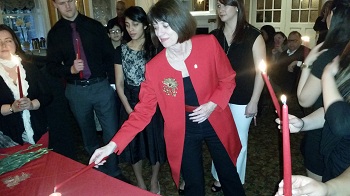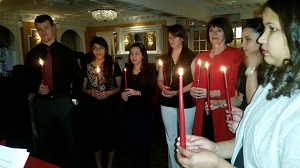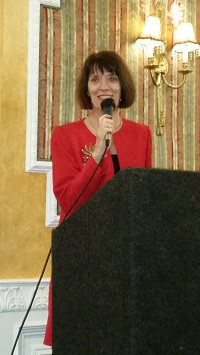 ---
Success for the 2014 Fulbright-Hays Group Project Abroad to South Korea
The 2014 Fulbright-Hays Group Project Abroad to South Korea program has ended as of March 31, 2015. One of the main outcomes of the project was achieved by program director Dr. Heejung An, who put together a website featuring the 12 lesson plans for K-12 schools created by the participants of the project, as well as other resources for teaching about Korea. These lesson plans will be presented to students and local teachers in during the 10th Annual Teaching Asia Conference on April 14th in University Commons, Ballroom C from 12:30-6:00pm. The website about the project can be found here: http://nova.wpunj.edu/anh2/fulbright-hays-korea/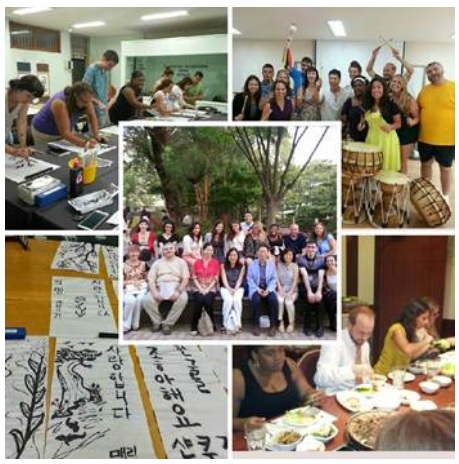 ---
"Digital U" Conference a Success
The third annual HSS College-Wide Conference on the topic "Digital U: The University in the Internet Age" was held on October 29, 2014. It was a very successful event, with well over 300 participants at each of the two morning sessions, almost 200 at the afternoon session. The success of this event is due to the efforts of the conference committee members: Associate Dean Wartyna Davis; Dewar MacLeod (History) and Deniz Yucel (Sociology), co-chairs; Vidya Kalaramadam (Women's and Gender Studies); Steve Newton (English); Ryan Rebe (Political Science/Legal Studies); David Rivera (Psychology); and Danielle Wallace (Africana Worlds Studies). This committee organized three intriguing and thought-provoking panels of specialists researching and working in the digital world of knowledge production and critique. The keynote speaker was David Theo Goldberg, who is the director and Professor of Humanities Research Institute at University of California. The College was also grateful for the financial support offered this conference from the departments of Africana World Studies, Anthropology, English, Geography & Urban Studies, History, Languages & Cultures, Philosophy, Political Science, Psychology, Sociology, and Women's & Gender Studies. Additional support was provided by the Center for Teaching Excellence and the office of Sophomore and Junior Experience. Both Provost Sandmann and President Waldron likewise provided generous welcomes and comments at two different sessions.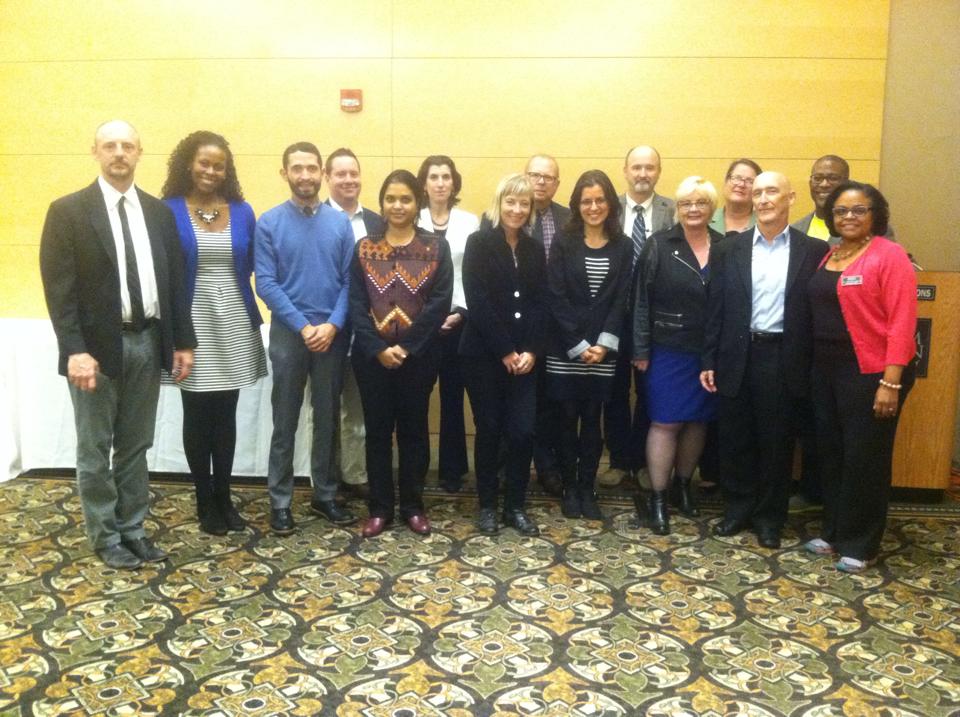 ---
Students in PHIL 2400 Raised Awareness and Money for a Haiti School
Students in PHIL 2400, Ethics & Community Engagement, raised awareness and collected donations for an elementary school in Haiti, L'Ecole de Choix, which provides free education, room, board and medical attention for unprivileged children.
---
Grant Awarded to Professor Dewar MacLeod
Associate Professor of History and Graduate Director Dewar MacLeod has received a 2014-2015 NJ350 Publication grant from the New Jersey Historical Commission to research and write a book called Beyond Bridge and Tunnel: A History of New Jersey's 20th Century Music Scenes as part of the Commission's effort to mark New Jersey's 350th anniversary.
---
Student Completes Field Course in Scotland

The Wayne Today report about an anthropology student's experience in an anthropology summer field course. Click here to read the report.
---
More than 100 High School French Students Visited William Paterson University
The William Paterson University French and Francophone Studies Program hosted more than 100 local high school students for a French Film Festival screening of "The Class."
---
Dr. Bruce Diamond(Psychology) is the 2010 winner of the New Jersey Psychological Association's Distinguished Researcher award for his work in the area of neuropsychology and cognitive neuroscience.
---
Professor Christine Kellyand Youth Vote Event at Kennedy High School in Paterson
---
Art Donations
Two photos of the recent installation of some "clouages" (term coined by artist Ben Wilson from French word for nail and "collage") in the Atrium. There are two clusters hanging in the Atrium Lobby, two individual structures featured in the Atrium Auditorium, and two grouped in the Atrium Conference Room. These were donated to the University by the Ben and Evelyn Wilson Foundation, along with a total of 5 paintings, 2 prints, and 6 sculptures that will also be on display in the Atrium.
---