Issue of Marriage as a Civil Right to be Explored by Hayley Gorenberg of Lambda Legal on September 20
The lecture by Gorenberg is presented in observance of Constitution Day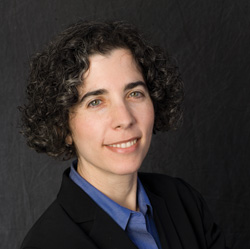 Hayley Gorenberg
William Paterson University in Wayne will observe Constitution Day on Thursday, September 20 with a lecture by Hayley Gorenberg, deputy legal director for Lambda Legal, titled "Marriage as Civil right: Constitutional Perspectives." The event, which is free and open to the public, begins at 11 a.m. in the David and Lorraine Cheng Library Auditorium on campus.
Lambda Legal is the oldest and largest national legal organization committed to achieving full recognition of the civil rights of lesbians, gay men, bisexuals, transgender people and people with HIV. Gorenberg serves as lead counsel in Lambda Legal's decade-long New Jersey marriage equality case.
Federal legislation signed in December 2004 requires all educational institutions that receive federal funds to implement an educational program each year that provides students with increased awareness and appreciation of the U.S. Constitution, which was adopted by the Constitutional Convention on September 17, 1787.
The program is sponsored by the American Democracy Project (ADP) at William Paterson University, part of a nationwide initiative coordinated by the American Association of State Colleges and Universities (AASCU) that seeks to increase civic engagement among American students attending public colleges and universities.
Gorenberg also served as lead counsel in Lambda Legal's high-impact legal action against Cirque du Soleil on behalf of performer Matthew Cusick, fired because he has HIV. The case resulted in the largest award ever for an HIV-discrimination complaint settled with the United States Equal Employment Opportunity Commission, as well as revised disability nondiscrimination policies and training for all Cirque employees worldwide.
Gorenberg advocates, writes and speaks widely on cutting-edge civil rights topics across the range of Lambda Legal's civil rights mission, including the rights of youth in schools, relationship rights for same-sex couples, workplace fairness, HIV issues and the rights of transgender people. She is involved in schools-related litigation, legal advocacy, and formulation of model policies promoting the rights of LGBTQ students, schools professionals, administrators, and allies across the nation.
Prior to joining Lambda Legal, Gorenberg served as Coordinating Attorney for HIV Advocacy at the Legal Support Unit of Legal Services for New York City, where she ran a citywide legal task force addressing the emerging needs of low-income New Yorkers with HIV. Earlier, as the first staff attorney in the HIV Advocacy Project of Legal Services' Queens office, she engaged in a comprehensive civil litigation practice representing people with HIV. She served on the Bioethics Committee and chaired the Special Committee on AIDS for the Association of the Bar of the City of New York.
Gorenberg, who was a 2010-2011 Wasserstein Public Interest Fellow at Harvard School of Law, graduated with honors from Princeton University. She earned her law degree in 1992 from New York University School of Law, where she received the National Association of Women Lawyers Award. Gorenberg then clerked in the Southern District of New York. Prior to studying law, she had a successful career as a journalist.
For additional information, contact the Christine Kelly, professor of political science and director of the American Democracy Project at William Paterson University at 973-720-3430.
# # #
09/07/12