William Paterson University Jazz Group Performs Live on WBGO 88.3-Fm Honoring International Jazz Day on April 30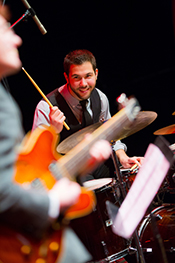 The William Paterson University Mulgrew Miller Ensemble will perform live on WBGO 88.3-FM in honor of International Jazz Day on April 30. The four-hour marathon is scheduled from 10 a.m. to 2 p.m. In addition to the WP Mulgrew Miller Ensemble, jazz groups from Juilliard, SUNY Purchase, Queens College, NYU, the New School, Rutgers and Berklee College of Music will perform.
The WP ensemble is directed by John Mosca, William Paterson University jazz faculty member, and consists of Dylan Anderson on tenor sax, Matt Tischio on alto sax, Ryan Tomski on piano, Eric Zolan on guitar, Daseul Kim on bass and Joe Spinelli on drums. David Demsey, William Paterson coordinator of jazz, will also be on hand.
Following the live broadcast, complete performances (a total of 9 hours of live music and interviews) with the bands can be found on wbgo.org/jam.
# # #
04/29/14