President Kathleen Waldron Participated on Commerce and Industry Association of New Jersey's Panel of Distinguished Leaders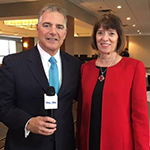 Steve Adubato and Kathleen Waldron
William Paterson President Kathleen Waldron joined a panel of distinguished local leaders for a discussion on personal leadership challenges and opportunities. The roundtable discussion, hosted by the (CIANJ), was moderated by Emmy-winning television anchor, political commentator and bestselling author Steve Adubato – who recently published the book, "Lessons in Leadership." The event took place on Wednesday, February 15, 2017.

Also serving on the panel of leaders were Ralph LaRossa, president and chief operating officer of PSEG and Michael Maron, president and CEO of Holy Name Medical Center.

Panelists provided attendees with practical and relevant leadership lessons that can be applied to their professional and personal lives, such as the importance of taking responsibility when things go wrong and resolving conflict in order to unify a team.
02-16-17
02/16/17