University to Graduate First Class of Doctoral Recipients
This year's commencement ceremony will mark an exciting first for the University: its inaugural class of students will graduate with doctor of nursing practice (DNP) degrees.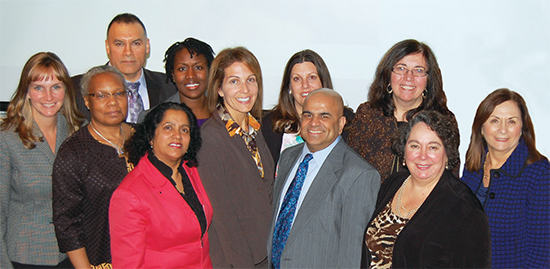 THE INAUGURAL GRADUATES OF THE DNP PROGRAM: FRONT ROW, LEFT TO RIGHT: SHARON PUCHALSKI, HARRIET COLEMAN, RACHEL KOSHY, KAREN MAGARELLI, VIVEK AGNIHOTRI, TONI TORTORELLA GENOVA, MARYANNE BAUDO; REAR, LEFT TO RIGHT: GUSTAVO GONZALES, SANDRA THEBAUD-YOUNG, JILL GUZMAN, AND MARIA BRENNAN
Eleven students—Vivek Agnihotri, Maryanne Baudo, Maria Brennan, Harriet Coleman, Toni Tortorella Genova, Gustavo Gonzales, Jill Guzman, Rachel Koshy, Karen Magarelli, Sharon Puchalski, and Sandra Thebaud-Young—will receive their doctoral hoods at the ceremony at the Izod Center on May 14.
The doctor of nursing practice is the highest-level clinical degree in nursing. It gives nurses who already hold master's degrees additional education in leadership in nursing practice and health care organizations, and prepares them to be scholars recognized for outstanding patient care outcomes. The program, which began in fall 2011, is the first doctoral program offered by the University.
As part of the program, each candidate has completed a clinically based research project designed to help demonstrate expertise in nursing practice. "Each dissertation looks at an issue important in health care today," says Brenda Marshall, associate professor of nursing and coordinator of the DNP program. Projects ranged from a study of the use of the Wii balance board to evaluate potential concussions in collegiate athletes to the effects a religious leader can have on diabetes education in the Latino community. Their dissertations will be entered into the University's library collection.
"Each of the students is at the top of their clinical area as nurse leaders or practitioners or in the application of scholarship in an academic setting," adds Marshall. "This program ties together practice, knowledge, and leadership, and we are so proud of all these graduates."
05/05/14