&
Brittany LaBruna Courts Success in Dance and Tennis
By Heather Brocious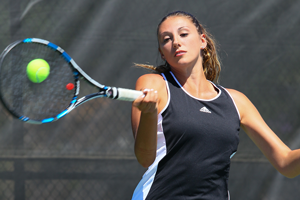 William Paterson senior Brittany LaBruna's twin passions were fostered within a veritable stone's throw of each other.
Her mother, Chris, has owned and operated Stepping Out School of Dance, located behind Preakness Volunteer Fire Company 4 on Ratzer Road, for 21 years. LaBruna's introduction to dance was the same as many toddlers, enrolling in tap and ballet as a three-year-old before expanding to jazz, contemporary, and pointe as she grew older.
Just up the street, her father, Nick, has worked at William Paterson for 35 years, including the last 12 as the superintendent of grounds and buildings. After her dance lessons were done, LaBruna was shuttled from the studio to William Paterson, where she spent many an hour roaming the campus and hitting buckets and buckets of balls on the tennis courts.
It was only natural that LaBruna would become a fixture in her mother's dance studio. For her start in tennis, she has her father to thank.
"I wanted Brittany to get involved in a sport that, if she was good enough, she could have a future in after college," recalls Nick.
A baseball, football, and hockey player growing up, Nick thought tennis might be a good fit, and he taught himself how to teach his daughter the basics. He put a racket into his four-year-old's hands in the backyard of their Bloomingdale home, but when she quickly started to litter the neighbor's yard with her groundstrokes, he knew it was time to find a new location, and some help.
Father-daughter sessions moved to the town courts and William Paterson, and she also began to work with a private coach. By the time she was in sixth grade, LaBruna was playing up an age level in United States Tennis Association (USTA) junior tournaments. Her local high school did not sponsor a girls' tennis team, and due to the amount of class time she would be missing while traveling the East Coast for events, the family decided to opt for home schooling to allow her the flexibility to complete her secondary education while simultaneously pursuing her dance and tennis careers.
"It just made sense at that point to go the home school route," she explains. "I had a coach, I was taking private lessons, and I was going to all of these tournaments. At first, my mom and I were using a book series, but then I was able to do my schoolwork online through Continental Academy."
Sectional appearances soon turned into trips to nationals, and by the time she was 18, LaBruna was being courted by several Division I programs. She accepted a scholarship offer, but when the NCAA Clearinghouse did not approve some of her online credits, she decided to defer a year and enroll as a freshman at William Paterson in the fall of 2012.
A coaching change at her top Division I choice made her re-evaluate her situation again at the end of her second semester, and that's when LaBruna decided to have a conversation with William Paterson head coach Mary Lou Caraballo.
"When I first met Brittany, I could tell she had the attributes of a strong tennis player," recalls Caraballo, who is in her 10th season leading the Pioneers. "She was tall, athletic, and had great skill. But what impressed me the most on that very first day was her personality. She was very humble, down to earth, and full of enthusiasm to start her journey at William Paterson."
The Pioneer head coach quickly found out just what she had gained. LaBruna went 17-1 at singles and 8-2 at doubles as a rookie, winning the USTA/Intercollegiate Tennis Association (ITA) Northeast Regional. She was named the 2013 New Jersey Athletic Conference (NJAC) Rookie of the Year and Player of the Year, and was an ITA All-American.
LaBruna put together one of the greatest resumés in Pioneer athletics history during her four years on the William Paterson hard courts. A two-time ITA all-American, she was a perfect 23-0 in league first-singles play during her career, and was expected to become the NJAC's first four-time Player of the Year when the conference released the annual awards in mid-November. With one match remaining as a Pioneer, she had compiled an astounding 66-6 singles record. Three of those losses came in three sets at last fall's ITA National Small College Championships, where she competed after securing her second USTA/ITA Northeast Regional title.
"Winning the regional last year has been the highlight of my time here," she says. "I won the first set of the championship match pretty easily (6-1), and then started thinking too much and lost the second (3-6). I fell behind 1-4 in the third, but was able to collect myself and eventually win (7-5). It was so great to have the support of my family and coaches there, and I was proud of myself for being able to come back like that."
"Everything happens for a reason, and I really believe that William Paterson ended up being the perfect place for me," she states. "I love my coaches and teammates, and being here has allowed me to continue to do the other things I love, too."
As accomplished as she has been on the hard courts, it didn't detract from her aspirations as a dancer. Those classes she took as a child eventually led to competitions and conventions as a teenager, including workshops with the New York Knicks and New York Jets as well as the 2009 Rockettes Summer Intensive. An instructor at Stepping Out since she was 17, LaBruna says she would like to pursue joining a dance team for an NFL or NBA franchise. Or, she could go after her dream of playing professional tennis.
"I want to play some tour events and qualifiers in the spring," she says. "If I decide that I really want to pursue a pro career, then moving to Florida to train full time is something that I will really have to consider."
LaBruna will complete a bachelor's degree at William Paterson this winter in interpersonal communication, and can envision a future working in a company's human resources department. She also enjoyed the classes from her psychology minor, and is considering a graduate degree in that field.
No matter what she chooses—tennis, dance, career, or graduate school—odds are that LaBruna will be a smashing success.