&
Bowling Team Places Second in National Championships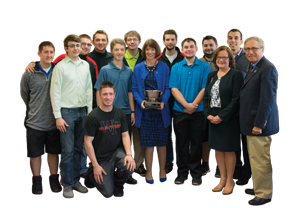 The William Paterson University Bowling Team returned to the championship match at the national finals for the first time since 1992 and placed second at the 2016 Intercollegiate Team Championships in Wichita, Kansas after a hard-fought final match against McKendree University.
Leading up to the finals, the team went 4-0 in match play defeating the No. 1, No. 4, and No. 5 ranked teams in the country as well as the top seed of the tournament. The William Paterson team was one of 16 teams that qualified to compete for the national championship.
Team captain Jake Rollins was named tournament MVP. Head coach Greg Hatzisavvas is a William Paterson graduate with a BS in physical education in 2008 and a master's degree in exercise and sport studies in 2012.
Photo: Steve Kotowski, Andrew Suscreba '14, assistant coach, Andrew Dekowski, Sean Laube, Joshua Spiegel, Steve Greco, President Kathleen Waldron, Jake Rollins, Justin Puchalski, Anthony Battaglia, Miki Cammarata, vice president for student development, Greg Hatzisavvas '08, MS '12, head coach, Fred Gruel, chair of the Board of Trustees. Kneeling, Anthony Fiorenzo