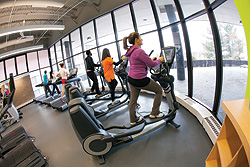 Overlook Fitness Center
*WPUNJ Student ID Required
Located between Overlook North and Overlook South, the fitness center is available to resident and commuter students. Overlook Fitness Center includes cardio equipment, selectorized weight equipment, a multi-purpose room for yoga and fitness classes, and a small lounge area with flat screen tv's.


General Policies and Procedures
1. All users are expected to follow the policies and procedures of the William Paterson University, Department of Recreational Services. Use of the Overlook Fitness Center is a privilege and failure to follow these policies and procedures may result in administrative and/or disciplinary action, including forfeiture of privileges.
2. Any inappropriate behavior may result in immediate expulsion from the Overlook Fitness Center. This includes but is not limited to verbal or physical abuse of another individual and/or damage to the facility.
3. All participants must present a valid William Paterson University Student ID to utilize the Overlook Fitness Center. No guests allowed.
4. Absolutely no personal phone calls will be accepted.
5. All participants must use turnstile entrance to enter and exit the building.
6. Smoking is prohibited.
7. Gum is prohibited.
8. Each participant must have a towel with them while working out. Participants may bring their own towel or borrow a towel at the Control Desk. WPUNJ Student ID must be presented for the towel.
9. The Overlook Fitness Center will only accept Pioneer Express.
10. Food or drinks are allowed in the lounge area only. Water, in water bottles only, is allowed in the fitness areas.
11. No personal articles (gym bags, backpacks, etc.) are allowed in the Fitness areas (use cubbies). William Paterson University will not be responsible for items left unattended.
12. Participants must use equipment properly. Do not slam or drop medicine balls, weight stacks or accessories, ask for assistance.
13. Do not remove any equipment from the Fitness Center.
14. If you need assistance with any exercise or machine, see the attendant on duty.
15. Appropriate workout attire must be worn at all times. No street shoes/clothes (no boots, open-toed shoes or jeans). Clothing should cover all parts of the body that will come into contact with the benches or pads of equipment. Clothing must be worn over undergarments.
16. Please assist us in keeping equipment clean by wiping down after use.
17. There is a 30-minute time limit on all machines in the Fitness areas when there are participants waiting.
18. Failure to abide by these rules may result in immediate expulsion from the Overlook Fitness Center.