The 39th Annual Distinguished Lecturer Series
An Evening with Artist and Designer Maya Lin

Nov 03, 2017 @ 7:30 PM

Location: Shea Center for Performing Arts

An Evening with Artist and Designer Maya Lin:
At the Intersection of Art and Architecture

Winner of the National Medal of Arts, and the Presidential Medal of Freedom, artist and designer Maya Lin interprets the natural world through history, politics, and culture, creating a body of work that balances art and architecture. Lin's installations, such as the Vietnam Veterans Memorial, become a part of the land, merging physical and psychological environments and presenting a new way of seeing the world around us.

Admission: $28.00 General Admission

---
History
38 Years of Exceptional Programs
For audiences eager to hear illuminating discussions by today's most in-demand speakers, William Paterson University offers the Distinguished Lecturer Series (DLS)—an event that began in 1980 and brings illustrious personalities from the worlds of politics, government, the arts, literature, sports, science, and business, along with original programs—to Wayne, New Jersey.

Jon Meacham, one of America's most prominent public intellectuals and a New York Times best-selling author, spoke to a full house at the Shea Center for Performing Arts in the fall about the 2016 presidential election. Previous speakers include Robert Krulwich, Mitch Albom, Jacques Pepin and Claudia Pepin, Daniel Levitin and Roseanne Cash, Harold Prince, Gloria Steinem, Diane Ravitch. actor Al Pacino, New York Yankees and Boston Red Sox general managers Brian Cashman and Theo Epstein, musical theatre composer Stephen Sondheim, New York City Mayor Rudolph Giuliani, former Secretary of State Colin Powell, former British Prime Minister Margaret Thatcher, film directors Oliver Stone and Spike Lee, performer Gregory Hines, and writers Alice Walker and Joyce Carol Oates to more than 100,000 audience members who have attended DLS since its inception.

More than 175 public figures have come to speak on the University's Distinguished Lecturer Series since its inauguration on February 11, 1980.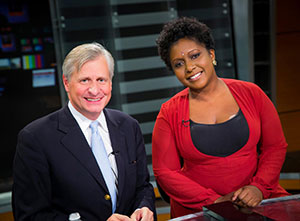 In November 2016, Pulitzer Prize-winning author, presidential historian, and contributing editor at TIME, Jon Meacham, sat down for an interview with WP student and host of WPTV's News Now, Aziza Kabibi. Later that evening, Meacham shared his expertise in politics and offered an unbiased, bipartisan perspective on the 2016 presidential election.

Photo: Jon Meacham and Aziza Kabibi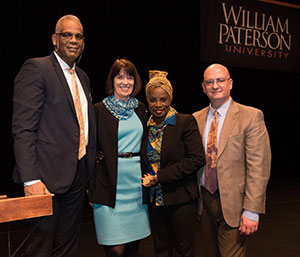 In February 2016, Grammy Award-winning singer and activist Angélique Kidjo received the President's Medal, presented by WP President Kathleen Waldron on behalf of the University and the Board of Trustees, in recognition of her artistry and activism that has reached international audiences. As a UNICEF Goodwill Ambassador, Ms. Kidjo is a strong advocate for education as the key to economic empowerment. Through her Foundation, Kidjo provides secondary education to girls across Africa and empowers the female leaders of tomorrow. As a three-time Grammy winner in the category of World Music, her powerful speech on education was punctuated with the strength of her singing voice and her intense stage presence.

Photo, left to right: Dean of the College of the Arts and Communication Daryl Moore; President Kathleen Waldron; Angélique Kidjo; and Provost Warren Sandman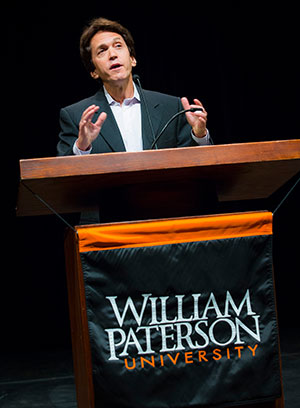 Best-selling author, sports reporter, and philanthropist Mitch Albom spoke in March 2015 about the unexpected success of his book Tuesdays with Morrie, as well as his 35-year-career in sports reporting. Using sports as a metaphor for life, Albom offered his commentary on why the public will never outgrow its obsession for sports.

Photo: Mitch Albom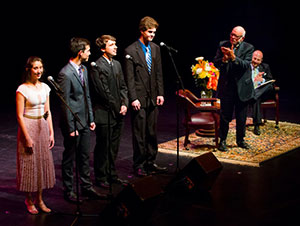 In May 2014, Tony Award-winning Broadway director Harold Prince gave a standing ovation to WP music students, who performed selections of Leonard Bernstein and Stephen Sondheim's music from West Side Story, Sweeney Todd, and Pacific Overtures (all first-run Broadway productions, directed by Harold Prince), in an arrangement by WP music professor Warren Helms entitled "Pretty Medley." Prince, who has garnered more Tony Awards than any other individual and has directed and produced more than 50 plays, musical and operas, discussed his illustrious career.

Photo, left to right: Sarah Ciccarelli, Alexander Ryan, Tyler Herrick, Michael Kern, Harold Prince, and moderator Alfred Doblin, editorial page editor, The Record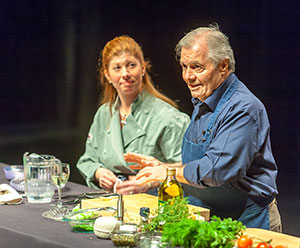 In February 2013, master chef Jacques Pépin, of Bravo TV's Top Chef and Julia and Jacques fame, led a cooking demonstration with his daughter Claudine in front of a sold-out audience. Along with the demonstration, the author, television personality, and seminal dignitary of the culinary arts discussed his amazing career. His show with Julia Child marked the advent of the culinary-based television programs that have become a staple in today's pop culture.

Photo: Claudine and Jacques Pépin
Past Lecturers

Steve Adubato
James G. Affleck
Mitch Albom
Madeleine K. Albright
America's Health Care Crisis
Eric Anderson
Hanan Ashrawi
Isaac Asimov
Lee Babiss
Howard Baker
Russell Baker
Dave Barry
Harry Belafonte
Carl Bernstein
Wolf Blitzer
Peter Bogdanovich
Robert Bork
Ed Bradley
Willy Brandt
William J. Bratton
Fran Brill
Art Buchwald
Christopher Buckley
William Buckley
The Capitol Steps
Brendan Byrne James Carville
Rosanne Cash
Brian Cashman
Benjamin F. Chavis, Jr.
Lynne V. Cheney
Richard Cheney
Chris Christie
Henry Cisneros
Kevin Clash
Harlan Coben
William S. Cohen
Jon Corzine
Christos M. Cotsakos
Catherine Crier
Chris Daggett
Michael Davis
Frank Deford
Alan Dershowitz
David N. Dinkins
Lou Dobbs
Elizabeth Dole
Abba Eban
M. Joycelyn Elders
Theo Epstein
Jaime Escalante
Geraldine Ferraro
Marlin Fitzwater
Malcolm "Steve" Forbes, Jr.
Gerald Ford
Harold Ford, Jr.
Al Franken
Louis Freeh
Frank Gaffney, Jr.


Henry Louis Gates, Jr.
Tony Geiss
Richard Gephardt
David Gergen
Penn Gillette
Raymond Gilmartin
Newt Gingrich
Rudy Giuliani
Doris Kearns Goodwin
William H. Gray III
Philip Habib
Alexander Haig
Alex Haley
Edward Heath
Nat Hentoff
Anita Hill
Gregory Hines
Richard Holbrooke
Benjamin Hooks
Charlayne Hunter-Gault
Molly Ivins
Jesse Jackson
Spenser Johnson
Thomas Kean
Jack Kemp
Alan Keyes
Angélique Kidjo
Peter King
Jeanne J. Kirkpatrick
Henry Kissinger
Edward Koch
C. Everett Koop
Robert Krulwich
Charles Kuralt
Richard Leakey
Spike Lee
Carol Leifer
Daniel Levitin
Mike Lupica
Catharine A. MacKinnon
Norman Mailer
Sonia Manzano
Wynton Marsalis
Mary Matalin
Bob McGrath
James McGreevey
The McLaughlin Group
Jon Meacham
Brad Meltzer
George Mitchell
Susan Molinari
Dee Dee Myers
Ralph Nader
John Naisbitt
Peggy Noonan
Joyce Carol Oates
P.J. O'Rourke
Frank Oz
Al Pacino
Alan C. Page
Douglas H. Palmer

Leon Panetta
Sara Paretsky
Jacques Pépin
Boone Pickens
Deborah T. Poritz
Colin Powell
Jody Powell
Harold Prince
William Proxmire
Jane Bryant Quinn
Anthony Rapp
Dan Rather
Diane Ravitch
Janet Reno
Sally Ride
Selena Roberts
Steve Roberts
Marty Robinson
Charlie Rose
Dennis Ross
Warren B. Rudman
Mark Russell
Murray Sabrin
Murray Sabrin Jehan Sadat
Peter Sagal
William Safire
Patricia Schroeder
Arkady Shevchenko
Beverly Sills
Phil Simms
Anna Deveare Smith
Stephen Sondheim
Susan Sontag
Caroll Spinney
Lesley Stahl
Gloria Steinem
George Stephanopoulos
Oliver Stone
Peter Tarassoff
Teller
Norman Thagard
Margaret Thatcher
Fred Thompson
Alvin Toffler
José "Joey" Torres
John Tower
Calvin Trillin
Paul E. Tsongas
Stansfield Turner
Neil deGrasse Tyson
John Updike
Steven Van Zandt
Alice Walker
Christine Todd Whitman
Bernie Williams
Walter Williams
Pete Wilson
Adrien Wing
Tom Wolfe
Andrew Young