&
Geomorphology Class Uses Local Sites to Study Earth's Surface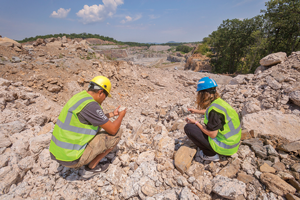 Environmental science majors traveled to a quarry in Pompton Lakes, a cemetery in Totowa, the Monksville Reservoir in Wanaque, the Great Falls in Paterson, and other nearby locations during a six-week summer session course focused on the changes made to the Earth by rivers, glaciers, and humans.
The course, Geomorphology, taught by Jennifer Callanan, assistant professor and chair of environmental science, gave the students a first-hand look at how nature can have a significant impact on the landscape. During their trip to the quarry, they donned hard hats and watched as massive trucks with seven-foot-diameter wheels moved rocks on the site. "I couldn't believe how much humans can move," senior Alexa Fiumarelli told a reporter for The Record. "It's crazy how much we can do."
At other sites, such as the Monksville Reservoir, students were able to see the many dead trees still standing in the water, showing the impact of the nearby dam on the waterway. For their final project, students were asked to compare natural agents to humans and decide, based on their experiences, who is the biggest mover and changer of the Earth.