&
Legacy Award Gala Raises More Than $288,000 for Scholarships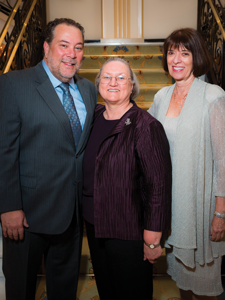 Legacy honorees Joseph Riccitelli '85 and Renate Rennie with President Kathleen Waldron
The William Paterson University Foundation raised more than $288,000 in support of scholarships at its 26th annual Legacy Award Gala on April 21—the second highest amount raised in the history of the event. The gala is the Foundation's largest fundraising initiative in support of the University's mission of student success and academic excellence.
Joseph Riccitelli '85, general manager and executive vice president of RCA Records (see feature, spring 2016), and the Tinker Foundation and its president, Renate Rennie, were honored for their philanthropy, leadership, and community service at the event. "Joseph Riccitelli and the Tinker Foundation have both made a significant impact on the William Paterson University community," says Pamela Ferguson, vice president for institutional advancement. "On behalf of the entire University community, I thank them for their partnership, leadership, and friendship."
Riccitelli is responsible for promoting some of the hottest names in contemporary pop music, including P!NK, Justin Timberlake, Foo Fighters, Usher, Britney Spears, and Pitbull. He spearheads all aspects of pop promotion for more than 100 artists and also oversees the company's music licensing and brand partnership departments.
The Tinker Foundation was founded in 1959 by Edward Larocque Tinker, an American philanthropist and writer who was deeply interested in the culture and people of Latin America. Under Rennie's leadership, the Foundation has worked to promote social justice, improve democratic institutions, encourage educational innovation, and drive environmental renewal in Latin America. The foundation has provided long-time support for Latin American studies programs at major U.S. universities, including the Tinker Foundation Latin American Lecture Series at William Paterson, which has brought 20 world-class scholars, authors, journalists, and other prominent Latinos to campus over the past five years.