&
Alumnus Tim Walsh '05 Launches New Digital Comic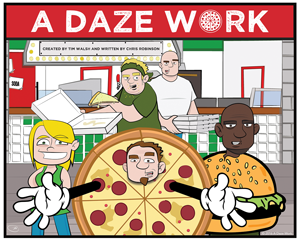 When Tim Walsh '05 was a teenager, working down the Jersey Shore at Pizza Plus in Point Pleasant Beach, he would doodle funny pictures of the customers. Soon, he started making them into short comics.
Now, artist and creator Walsh, and his friend, comedian and writer Chris Robinson, have taken their experiences on the boardwalk to a new level, launching A Daze Work, a new monthly digital comic that follows the lives of Finch and Barry, who work at a pizza place on the Jersey shore and deal with wacky customers and constant money problems.
The series is being produced in partnership with Shatner Singularity, a new comic book imprint by the legendary actor William Shatner. The partnership officially launched at Comic-Con International: San Diego 2016 last July, where Walsh and Robinson were on a panel with Stan Lee, former president and chairman of Marvel Comics. "It seems like it happened overnight, but it has actually been a long road to get here," says Walsh, who adds that he was amazed to find himself signing autographs at Comic Con.
In addition to creating A Daze Work, Walsh, who earned a bachelor's degree in graphic design, is co-owner of eleven nine studios, a marketing design studio, where Robinson is also a member of the team. His advice to students and alumni: "Whatever you are passionate about, do it," he says. "Figure out how to make what you love what you do."