&
Steven Le Vine '06 Wins Public Relations Accolades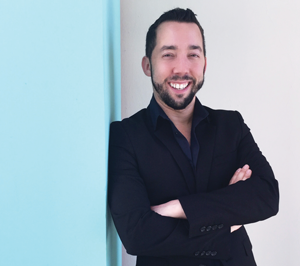 Alumnus Steven Le Vine '06 recently earned a number of awards and accolades for his business—grapevine pr + consulting —in acknowledgment of a recent public relations campaign his company rolled out for client Danny Pintauro, who was best known for playing Jonathan Bower on all eight seasons of the hit '80s ABC sitcom, Who's the Boss?
Le Vine and his company orchestrated Pintauro's revelation that he was HIV-positive in an exclusive sit-down interview with Oprah Winfrey last September, which made top news headlines for the following week, before rolling out the rest of the campaign, which included stops on The View, Entertainment Tonight, and E! News. Le Vine's company received two 2016 PR World Awards, including a Silver Award for Arts, Entertainment & Media Campaign of the Year for "Child Star Danny Pintauro's Big Reveal" and a Bronze Award for PR Agency of the Year. His company was also selected as a finalist for the 2016 Public Relations & Marketing Excellence Award, and received an honorable mention in Ragan's PR Daily 2016 Media Relations Awards, both for PR Campaign of the Year.
Le Vine is founder and president of the Los Angeles-based company, a full-service entertainment and lifestyle PR agency he launched in 2006. He has been named a "Rising Star" by Global Business Magazine and has also been honored with a "Power 30" Award from the Apex Society. He contributes his time mentoring students on business through the Network for Teaching Entrepreneurship (NFTE).
To learn more, visit www.thegrapevine.com