&
$200,000 Donation from Give Something Back Foundation Supports Scholarships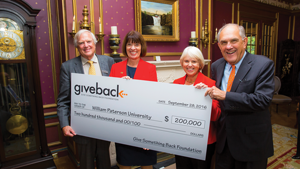 Robert Carr, founder and chairman of the Give Something Back Foundation, with President Waldron and Joan and Jack Hall
A $200,000 donation from the Give Something Back Foundation (Give Back) will provide 10 students from northern New Jersey with the opportunity to attend William Paterson and graduate in four years.
"Give Back is excited to expand its scholarship program in New Jersey and provide our scholars with the option of receiving a college degree in four years from William Paterson University—an institution that shares our vision of making a college education available to qualified students of modest means," says Robert Carr, founder and chairman of Give Back. The foundation is focused on providing scholarships to students whose income qualifies them for a federal Pell Grant to help them realize their full potential by achieving a college education, debt free.
"Scholarship support can be transformative for students in need of financial support who are seeking to make higher education a priority," says President Kathleen Waldron. "We are grateful to Robert Carr and the Give Something Back Foundation for their generous gift in support of students whose hard work in high school will make them eligible for a scholarship-supported William Paterson University education in the future."
Also present on campus for the announcement were Jack and Joan Hall, supporters of the University who recently established an endowed scholarship in honor of Joan Hall's sister, Marie Louise McCarthy '44, and were instrumental in bringing the University to the attention of Robert Carr and the foundation and making the gift possible.