&
Undergraduate Research: Explorations in Experiential Learning
By Christine S. Diehl
"We focus on and emphasize student research at William Paterson. We know how important it is for our students, and how much this helps them in careers and in graduate education. Students who have two or more years in a lab or working on a research project already have the skills that will be needed as they move on for a graduate degree or that first job," says Warren Sandmann, provost and senior vice president for academic affairs.
The depth and quality of student research at William Paterson is evident in disciplines throughout the University—from the hard sciences and social sciences to the humanities, business, and education to arts and communication. In addition, students in the University Honors College are required to complete a thesis for their honors track.
"This past year, we highlighted more of our student and faculty research with a program we called EXPLORATIONS 2016. Expanding on University Research and Scholarship Day, we incorporated a number of faculty and student research, scholarship, and creative activities under one umbrella so that we could better demonstrate just how much our faculty and our students do in this area," Sandmann says. "From the time I arrived on campus, I have been amazed at the amount and the quality of student scholarship, and so impressed by the work our faculty do with students. Our undergraduates make presentations, attend conferences, and earn national awards and recognition."
The EXPLORATIONS program events provided a venue for students to showcase their work to peers and faculty, not only from William Paterson, but in some cases, from other institutions as well.
The following are some highlights from among the hundreds of research projects by University undergraduate students.
Julia MacDonald '17
Using Acoustic Monitoring to Detect Northern Long-Eared Bats at High Mountain Park Preserve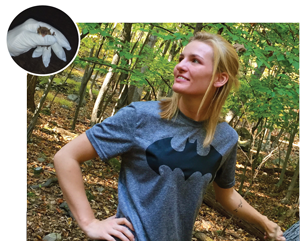 When biology major Julia MacDonald '17 set out to determine whether bats were using nearby High Mountain Park Preserve as a habitat, she thought she had a slim chance of finding evidence of the federally threatened northern long-eared bat. While she was excited that the data showed the bat species was at that location, she never expected to net two males the first night she went searching.
Her research is especially significant because the population of the northern long-eared bat, once fairly common in forested areas in New Jersey, has declined about 95 percent in recent years due to a fungus that causes white nose syndrome, which was first discovered in the United States in 2006. Both the Nature Conservancy, which administers the High Mountain Preserve, and U.S. Fish and Wildlife, which monitors threatened and endangered species, are interested in her findings.
MacDonald, who hails from Vernon and says she "loves the outdoors," began working with faculty mentor Lance Risley, professor of biology, in the summer of 2015 when she joined his "bat crew," a team of students he recruits each year to assist with his bat research at various locations in New Jersey. "Julia learned how to catch bats, identify the various species, and how we use acoustical equipment to determine the presence of bats, as well as attach transmitters and monitor and track those we are able to catch," Risley explains.
A student in the Honors College biology track, MacDonald developed a proposal for her honors thesis focused on using acoustic bat detectors—sensitive devices that record high-frequency sounds—in five favorable habitat locations to gather data on the preserve's bat populations, which had never before been surveyed. When the detectors found evidence of bats, MacDonald and Risley headed to the woods one evening in July, setting up a net at the most promising location, and found those two northern long-eared bats. They were able to attach transmitters to the two bats and tracked to them to roost trees on the mountain's ridgeline and in nearby wetlands.
For MacDonald, participating in independent research "has definitely opened my eyes to how much work is involved," she says. "You can only learn so much in the classroom. Being able to conduct fieldwork and process the data really has given me the whole experience."
To see Julia MacDonald discuss her research, click here
Gabriela Salvador '16
Examining Changes in French Women's Fashion During the Late 18th and Early 19th Centuries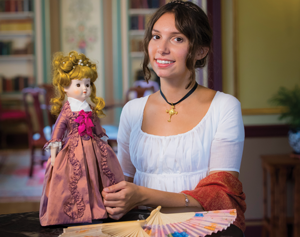 Gabriela Salvador '16 had the opportunity to turn her long-time interest in historical women's fashion into a research project. An Honors College student who double majored in English and communication/print journalism with a public relations minor, Salvador is passionate about sewing and restoring historical garments.
With guidance from her faculty mentors, including her thesis advisor John Peterman, professor of philosophy, she completed a thesis for the Honors College humanities track titled Examining Changes in French Women's Fashion during the Late 18th and Early 19th Centuries.
Salvador's research focused on the political and cultural influences on French women's fashion and the great changes in fashion during and after the French Revolution. "No period of fashion history is as enigmatic as the exaggerations of 18th century French court fashion. The excesses associated with Marie Antoinette—luscious silk brocades, stiffly boned undergarments, towering hairstyles adorned with miniature ships—remain symbolic of the period. Yet the years following the French Revolution represent starkly different fashion that emphasized classical Greco-Roman ideals of natural beauty and simplicity," Salvador explains.
To illustrate the shift in fashion, Salvador—who is an accomplished seamstress and has served as costume exhibit curator, garment preservation specialist, and antique textiles collection manager for the Kearny History Museum in her hometown—also constructed period outfits representing c. 1770 and c. 1800 styles as part of her project.
Through her research, she hopes to illustrate how critical fashion was to history and how imperative it is for historical scholars to consider contemporary fashion when analyzing historical events.
"I found that although women had no voice in the political sphere during that time, they used their clothing to express political allegiances," she says.
The first in her family to attend college, Salvador, who graduated summa cum laude in May, was honored as a 2016 Legacy Scholar at the University's annual Legacy Award Gala and was named the 2016 Outstanding Senior by the William Paterson University Alumni Association.
Michael Parmese '16
Millennial Engagement in Charitable Causes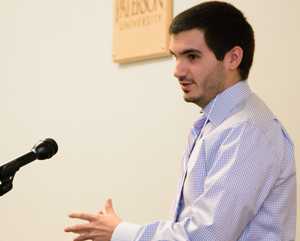 Charities play a large role in the betterment of people's lives, whether it be people with illness and disease, homeless individuals, or giving resources to locations in need after natural disasters, says Michael Parmese '16. "Many millennials are starting to reach adulthood and are eager to contribute to charitable causes that benefit society and improve the lives of others," he says.
A business management major from North Haledon, Parmese embarked on a research project to study the topic of millennial engagement in charitable causes for his thesis in the Honors College business track. Guided by his marketing and management professors, Bela Florenthal and Chen-Ho (Mike) Chao, his research study examined the relationships that exist between intention to participate in charity and participant ethnicity and gender, as well as the ability of past participation to influence future financial donations.
"I found that there is a significant difference between participation intention across millennials with different ethnic backgrounds, where Caucasian millennials have expressed higher intention to donate to charitable organizations compared to millennials with other ethnic backgrounds such as black, Hispanic, and Asian. Females indicated a significantly higher perceived pressure to donate, and felt that their gender donated more frequently than males," he says. "Similarly, males felt that females donated more regularly. Thus, both genders expect females to donate at an increased rate compared to males."
Parmese hopes that his findings on this infrequently researched topic can be used to help charities create more targeted and focused marketing and advertisements that could help them reach their intended audience more effectively, and thereby increase charitable engagement, including donations of both money and time by millennials.
"This research can lead to the creation of better marketing materials to target specific genders and ethnicities, as well as a more comprehensive understanding of how to attract new participants and further engage existing participants in charitable causes," he explains.
For Parmese, the opportunity to participate in a research project like this had a positive impact on his University experience. "I was able to make close connections with professors who helped me to grow professionally and gave me guidance every step of the way. Completing undergraduate research affected my experience by requiring me to go beyond the standard requirements. I had to ask questions, reach out to new people, and make difficult decisions about my research and what I was aiming to achieve. This helped me to better understand how to gather and analyze data and taught me how to more effectively manage a project," says Parmese.
Tonee Burley '16
Eurocentric Beauty Standards and the Perception of African American Women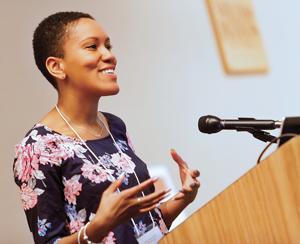 When selecting a topic for her Honors College thesis in the social sciences track, communication disorders and sciences major Tonee Burley '16 was inspired by her own life experiences when she chose to study students' perceptions of African American women with varying skin complexions and hair textures.
"As an African American woman, my 'hair story' has greatly impacted me. When I came to college I decided to wear my hair natural instead of continuing to chemically treat it. Everyone had an opinion and I came to realize there were larger systems that made my choice to wear my hair the way it grew out of my head into a political statement," says Burley, who also completed a minor in social justice.
In conducting her research, Burley hypothesized that lighter skinned women and women with straight and long hair would be more favorably perceived than dark skinned women with natural hair, such as afros, dreadlocks, braids, etc. She looked for trends among certain demographics to see if the effects of Eurocentric beauty standards and colorism affected perceptions.
"I found that most respondents felt that African American women were most likely to alter their natural hair because of societal pressure, adherence to Eurocentric beauty standards, and personal choice," says Burley. "Lighter skinned women and dark skinned women with aquiline features were chosen as most preferred public officials and teachers. Women with straight long hair and natural hair styles like afros and twist-outs were preferred over women with braids and dreadlocks, and were preferred on questions of beauty and willingness to hire regardless of skin tone."
Her thesis advisor, Danielle Wallace, assistant professor of Africana world studies, was instrumental in helping her through the research process. "She built my confidence and encouraged me when I felt overwhelmed. She inspired me by believing in my research and what I was trying to say," says Burley, a dean's list student. "Having the opportunity to do undergraduate research was an invaluable experience. I learned so much about the technicalities of research and the tools available. I also found a means to channel my passion for feminism and social justice."
Her undergraduate research experience also has given her a jump start on her graduate study; she is currently enrolled in the University's master's program in communication disorders and sciences. "I feel very prepared to complete my graduate thesis next year," says Burley.
In the future, she hopes to work with clients including the D/deaf, transgender individuals, and those with foreign accents, and ultimately plans to pursue her PhD.
Randall Sanders '16
Connecting Grade 3-12 Students to Natural Geoscience Processes in Their Local Urban National Park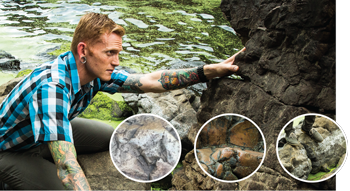 Randall Sanders '16, an earth science and secondary education major, was taking an elective class on Land Use and Planning with environmental science professor Nicole Davi, when she pulled him aside and offered him the opportunity to participate in a research project developing science curriculum for Paterson school students using Great Falls National Historical Park as a resource.
"It was a great fit because I am interested in nature and was also majoring in education," says Sanders, a Wallington resident who graduated magna cum laude in May. For the next year and a half, he joined the student team led by Davi and fellow environmental science professor Michael Griffiths in the collaborative project, Connecting Grade 3-12 Students to Natural Geoscience Processes in Their Local Urban National Park, which is funded by a grant from the Landsberger Foundation.
Sanders helped to develop science curriculum packages focused on dynamic weathering and erosional processes that have contributed to the formation of the Paterson Falls, topics aligned with the seventh grade science curriculum in the Paterson Public Schools. The lesson plan for seventh graders is the first of several that are being developed through the project.
Davi says, "We wanted to support the Great Falls National Historical Park with their mission to use the park as a living classroom. Through this project we are developing geoscience related, Next Generation Science Standard aligned, walking tours of the park and the Paterson Museum, both of which are in walking distance to many K-12 schools. It helps that the geology that is visible in the park is also spectacular and includes evidence of plate tectonic activity from 200 million years ago."
The partnership includes William Paterson, the Great Falls National Historical Park, and the Paterson Museum, all of which have strong connections to the Paterson K-12 urban community. "This project supports the University's goal of encouraging student civic engagement and it gives William Paterson students hands-on experience working with Paterson K-12 students and project partners, and developing curriculum. These real-world experiences help our students land jobs once they leave the University, and it also helps to build their professional network," Davi says.
For Sanders, the rewards of participating in this research project have been vast. He and a fellow student, Alyssa Apryasz '17, won the prestigious Geology & Society Best Student Paper Award from the Geological Society of America for their research paper on this topic, which they co-presented at the society's 2015 annual meeting. Their paper was highly rated among the judges for the quality of presentation and connection to the concept of geology working for society.
In addition to this national award, the networking connections Sanders made while working as part of the collaborative project team helped him land a full-time job as an environmental science teacher at Passaic Valley Regional High School in Little Falls, where he also did his student teaching.
Sanders credits his professor with helping him every step of the way. "Professor Davi has opened so many doors for me. She is an amazing mentor, role model, and friend who has been instrumental in my success. She saw something in me and her positive feedback, telling me 'I believe in you,' really pushed me to achieve."
Undergraduate Research Accolades
At William Paterson, students attend conferences, make presentations, and earn awards for their research. Here are some recent examples:
• Aimee Aquino '16, environmental science, National Student Exchange Achievement Honorable Mention Award for a semester-long carbon research project at the University of Montana.
• Stephanie Costa '16, Erin Connor '16, and Eugene Dennis '16, biology, and Erica Wu, nursing: Outstanding Poster Presentation Awards at 7th Annual Garden State Louis-Stokes Alliance for Minority Participation (GS-LAMP) STEM Research Conference at Rutgers University.
• Michelle LeGrand '16, psychology, winner of student art show competition at the Northeast Regional Honors Conference for "Enslaved No More," a project designed to bring awareness to human trafficking.
• Sirai Ramirez '17, biology, first place STEM Award in biological sciences at the Emerging Researchers National Conference in Washington DC for "Reactive oxygen species during tail regression in tadpoles Zenopus laevis: Cross talk between cellular organelles."