&
Fulbright Award Supports Educational Trip to Israel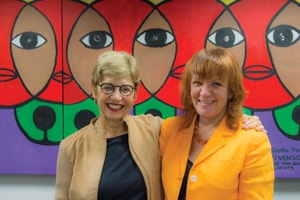 Professors Laura Fattal (left) and Sandy Alon
Six William Paterson education majors and six current New Jersey teachers will travel to Israel this summer through a Fulbright-Hays grant from the U.S. Department of Education. Sandy Alon and Laura Fattal, professors in the University's College of Education, have been co-awarded $95,000 to lead the four-week group trip. The Fulbright-Hays Group Projects Abroad grant seeks to advance K-12 teachers' cultural awareness of and interdisciplinary instruction about Israel.

While in Israel, the group will take part in experiential learning that includes visits to UNESCO historical sites, unique environmental landscapes, and museums, as well as lectures at prominent educational institutions and hands-on learning with innovators of education technology.

Before their trip, participants will learn the basics of Modern Hebrew and emergent bilingual teaching strategies. Following the trip, they will develop a handbook of interdisciplinary lessons and an online photo-essay that documents their experience—an exercise in teaching global studies by means of the visual arts.

"With our University's location in northern New Jersey—a multicultural area—it is paramount that we develop teachers who are culturally competent and equipped to provide inclusive instruction that advances global education," says Candace Burns, dean of the College of Education.

William Paterson has a history of global educational exchanges. The University has taken part in student and/or teacher cross-cultural programming in the Netherlands, India, Namibia, and South Korea. Research on communicative strategies used by teachers of non-native language learners is ongoing between William Paterson and the Western Galilee College in Israel by means of publications and conference presentations.