&
Legendary Swim Coach Ed Gurka Marks Four Decades on Campus
Heather Brocious
Forty-one years. More than 700 dual-meet victories. Fourteen Metropolitan Conference crowns. Five individual national titles, 76 appearances at the NCAA Championships, and 42 all-America certificates earned by Pioneer individuals and relay teams. Eleven former student-athletes inducted into the William Paterson Alumni Association Athletic Hall of Fame.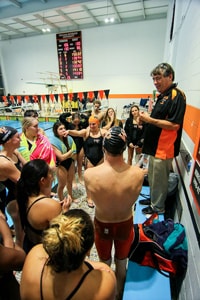 Ed Gurka (right) coaches members of the Pioneer swimming and diving team
When simply judged by the numbers, the career of William Paterson University men's and women's swimming and diving head coach Ed Gurka has certainly been one for the record books, and he shows no signs of slowing down as he looks forward to the start of his 42nd season next fall.
Gurka grew up in the shadow of William Paterson, three times earning all-state accolades at Wayne Valley High School, and moving on to swim the butterfly and individual medley collegiately at the University of Maryland. He returned home following his graduation in 1976, and while managing two local pools that summer, he heard that William Paterson was looking for a new part-time head coach for its swimming and diving program. Shortly after being offered the job by then-athletic director Art Eason, Gurka also secured a full-time teaching position in nearby Haworth.
"I went from being uncertain about my future to getting two jobs in two weeks," he recalls. "It all fell into place and worked out perfectly."
Gurka remembers clearly his first meet as the Pioneers' mentor, a pair of lopsided losses to Manhattanville during the fall of 1976, but his charges steadily improved as the season progressed.
By the early 1980s, the Pioneers were a force in the tri-state area, securing three Metropolitan Conference dual-meet titles and two Mets Championships crowns during the decade. Joe Gentile was one of the all-time Pioneer greats on the men's side, winning five national championships (including two then-Division III records) en route to being named the New Jersey Athletic Conference (NJAC) Male Student-Athlete of the 1980s.
In 1989, Gurka became the first swim coach in NCAA (all divisions) history to win 100 meets as coach of both the men's and women's swimming and diving teams at one school. During the 2016-17 season, he registered his 700th combined dual-meet victory (345 men's, 372 women's), and is the longest-tenured coach for any sport in the NJAC.
The men may have dominated the '80s, but the Pioneer women were the driving force of the 1990s. Laurie Gazdalski Genna '96 helped to lead the charge, earning all-America honors in the 50 freestyle, butterfly, and medley relay events from 1992-95 before her 2000 induction into the William Paterson Athletic Hall of Fame.
"Ed was always a lot of fun to be around, and the swim teams were a big family," says Genna, now a sixth grade science teacher at Wayne's Schuyler-Colfax Middle School. "He just has a great way of communicating with young adults, and it has made a big difference in my own life to this day because it has influenced how I talk to my own students and my family as well."
The 2000s also saw a fair share of success, including four all-America certificates for Kristin Clegg Bell '06, as well as new individual school records in the 50 free, 100 back, and 200 IM by NCAA qualifier Vojtech Karas '10. Both were later enshrined in the Athletic Hall of Fame.
"When the list for nationals came out at the end of my senior season, I was the first name below the (qualifying) line," says Karas, who is sharing the knowledge he has gained as a senior trading strategist by serving as a mentor for William Paterson's Pesce Family Mentoring Institute. "I was crushed that I wasn't going to the NCAA Championships. I just couldn't believe it. But Ed told me to not lose hope, that maybe we could appeal. I looked at the list again and thought I found an error, and I brought it to Ed's attention. He took that information and ran with it, and then he called me in the middle of the night and said, 'Buddy, you're in. Pack your bags because we're going to Minneapolis.' I had stopped training for 10 days because I had given up any hope of going to nationals, but he didn't. It's a testament to Ed and what he stands for that he kept fighting on my behalf."
Some things have certainly changed during Gurka's four decades at the University. Technological suit innovations have resulted in faster times. The Division III season was shortened to 19 weeks, condensing the amount of time the team has for organized practices and meets. Even the way student-athletes register for, and attend, classes has evolved as online options have become more widespread.
While Gurka has embraced these modifications, his training philosophy has remained relatively unchanged over the years. He still relies on the tried-and-true advice offered in the 1968 publication, The Science of Swimming, by James "Doc" Counsilman.
"The progressive system that Doc Counsilman established works, and works very well," Gurka says. "We've gone up a little bit more in distance over the years, but the system itself is effective and has stood the test of time."
For his first 37 years, Gurka's in-season schedule consisted of arriving at the Bergen Center for Child Development by 7:30 a.m., teaching until 2:15 p.m., rushing to campus by 3:00 p.m., and conducting practice until 7:30 p.m.
"Looking back on it, I'm really not sure how I did it," he chuckles. "I'm very lucky to have a wife who put up with that schedule. With three kids, a lot of responsibility fell on her, and Janet did a great job of making sure everything was running smoothly at home for Eddie, Brian, and Lauren.
"I also have been very lucky to have assistant coaches who were a big help," he continues. "People like Steve McDonough, who has been with me for 35 years, and Angel Camacho, Julia Anderson, and Ken Berk, who each served 10 years or more. I have been extremely fortunate to have them as part of the program."
Prior to the start of the 2013-14 campaign, Gurka's part-time passion turned into his full-time profession, as William Paterson made the swimming and diving head coaching role into a full-time position. He retired from the Bergen Center for Child Development, shifting his sole focus to Wightman Pool and the Pioneers.
Whether serving in a part-time or full-time capacity, Gurka's commitment to his student-athletes has never changed during his time on campus.
"Since my parents aren't here, Coach Gurka is one of the most important people in this country for me," explains Vera Blazevska '17, who moved from Macedonia to Wayne when she was 16 years old, staying with an uncle while completing high school and college. "He's there for me in every single way, and I know that he's just a phone call away and always there to help.
"In the pool, he has given me confidence I never had before," the 2016 NJAC Co-Swimmer of the Year continues. "After 15 years of swimming growing up, I didn't have the confidence that I could swim at the college level or achieve my goals. Of course, he wants me to swim fast, but he really cares about my growth in every phase of my life, and he has definitely taught me how to believe in myself."
The numbers only tell part of the story when encapsulating Ed Gurka's first 41 seasons leading William Paterson. His true legacy lies in the influence he has had on the lives of hundreds of Pioneers over the years.


For an inside look at Ed Gurka coaching the Pioneers, click here.