&
Tens of Thousands of Honeybees Make University Campus Their Home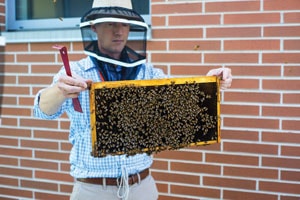 Professor Dave Gilley with bees from the honeybee lab
Some of William Paterson's newest residents are causing quite a buzz
on campus.

This past summer, approximately 60,000 honeybees were given a home on the roof of Science West thanks to a donation from the New Jersey Beekeepers Association. The new four-colony apiary, under the direction of David Gilley, associate professor of biology, offers expanded opportunities for student education and research. The apiary joins Gilley's already-established indoor honeybee lab and observatory.

"We hope that William Paterson University can further the development of its educational processes with their students in biology, and in animal behavior, with respect to honeybees," says Charles Ilsley, treasurer of the New Jersey Beekeepers Association and vice president of its northwest New Jersey division. "Our reason to be is to educate the public on the art and science of beekeeping. That means answering fundamental questions about honeybee behavior that we then try to put to use. And there's no one better with which to try than Dr. Gilley. We think putting our eggs in this basket is a good bet."

"Biology students will be able to directly contact and manipulate live animals, which is a critical experience for students interested in behavior, physiology, evolution, and ecology," says Gilley. "Plus, bees play an important role in sustainability and agriculture, so both the training and the research we do with the apiary will be of public benefit. This generous donation from the New Jersey Beekeepers is a perfect example of the good that can come from partnerships between our state universities and the New Jersey community."

The New Jersey Beekeepers Association donated both the honeybees and two of the four wooden colonies in which the bees work and reside. Gilley, whose research is centered on honeybees, previously housed a few colonies off-campus, in nearby Haledon. He relocated two of those structures to Science West following the Association's donation.

Students are already benefitting from having full-scale hives right on campus. Honors biology student Trevor Courtright '18, who interned at the apiary last summer, is working on a research project this spring. With the use of pollen traps on the colonies, he will analyze the pollen honeybees carry to campus to learn what types of plants the bees visit and with what frequency. Then, he will correlate what the bees are eating to the health of plant species in our area.
For a video about the University's honeybee lab, click here