&
Freshman Jazz Major Places Third on NBC's The Voice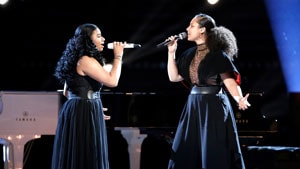 Freshman We McDonald and singer-songwriter Alicia Keys
McDonald tried out for the show prior to arriving on campus for the fall semester. Her blind audition for the show—a powerful version of the Nina Simone classic "Feelin' Good"—catapulted her to the attention of the American public when it aired during a preview episode of the show following the closing ceremonies for the 2016 Summer Olympics.

Mentored on the show by the Grammy Award-winning singer-songwriter Alicia Keys, McDonald performed a wide range of music, from jazz classics to show tunes to contemporary, including a dramatic version of Irish singer-songwriter Hozier's "Take Me to Church," a show-stopping performance of Barbra Streisand's rendition of "Don't Rain on My Parade" from Funny Girl, and a duo performance with Keys of "Ave Maria." Many of her performances charted on iTunes.

The campus followed her journey with great excitement. "She has a rare combination of world-class talent and total humility," David Demsey, professor of music and coordinator of jazz studies, told The Record. "The amazing thing is what we see on TV is really her. And that's very, very rare that you meet somebody, at any age, that's the same person in a school corridor and in front of a national TV audience. It's going to carry her far."

McDonald, who was active in the performing arts theater program in high school at Passaic County Technical Institute in Wayne and also studied dance, vocal music, and theater at the Harlem School of the Arts, is now back on campus, pursuing her studies in the jazz program and excited to see where her experience on The Voice will take her.
To see Wé McDonald's performance of "Don't Rain on my Parade," click here