&
It is with sadness that we mourn the passing of a member of the campus community…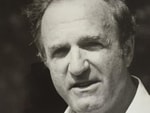 Joseph Brandes, professor emeritus of history, died January 12, 2017. He was 88.
Brandes, who was born in Poland, fled Europe with his Jewish family in 1939. After earning a doctorate in economics and history from New York University, he taught for several years in New York City schools before joining the William Paterson community in 1958.

His expertise ranged from immigration to the labor movement to Herbert Hoover, and he was the author of several acclaimed books, including Herbert Hoover and Economic Diplomacy, and Immigrants to Freedom: Jewish Communities in Rural New Jersey, which earned him designation as a fellow of the New Jersey Historical Society. He was an active member of Phi Alpha Theta International History Honors Society, serving on the organization's national governing board as well as faculty advisor of the University chapter for more than 20 years. He also was a member of numerous other scholarly organizations, including the American Jewish Historical Society, and was active in the community, particularly as a volunteer with Jewish Federation of Northern New Jersey.

Following his retirement in 1992, Brandes continued to teach on campus as an adjunct professor and to help organize conferences on Holocaust and genocide education for teachers.