&
Kevin Lenahan '90 Joins Board of Trustees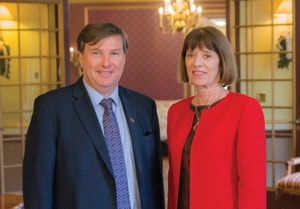 Kevin Lenahan '90 and President Kathleen Waldron
Kevin J. Lenahan '90, senior vice president, chief financial officer, and chief administrative officer for Atlantic Health System, Inc., has joined the University's Board of Trustees.

"We are delighted that Kevin Lenahan has joined the William Paterson University Board of Trustees," says President Kathleen Waldron. "As an alumnus who is a leader in the provision of healthcare in northern New Jersey, we welcome the unique perspective he brings on a major industry that impacts our state, including our students. His experience as a chief financial officer brings valuable fiscal expertise to our board."

Lenahan, who holds a bachelor's degree in accounting, began his career at Atlantic Health in 1995 and has served the organization in numerous capacities over the past 20 years, including as chief financial officer since 2010. Lenahan also holds the positions of president and chair of Atlantic Health Management Corporation, president of Atlantic Insurance Company, Ltd., and president of Atlantic Ambulance, as well as treasurer of the Atlantic Health System Board.

His numerous honors and awards include the NJBIZ 2013 "CFO of the Year" Award in the large, not-for-profit category and the 2016 CFO Innovation Award, presented by CFO Studios. A fellow of the Healthcare Financial Management Association, he is a member of the New Jersey Society of CPAs and the College of Healthcare Executives. Lenahan also serves on the Advisory Board of the Cotsakos College of Business at William Paterson.