&
Linda Bowden, MA '78, Named 2017 New Jersey Business Hall of Fame Laureate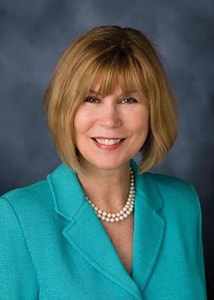 Linda Bowden, MA '78, New Jersey regional president of PNC Bank and a member of the William Paterson University Foundation, has been selected as a 2017 New Jersey Business Hall of Fame™ Laureate.
Induction into the New Jersey Business Hall of Fame™ is a lifetime achievement award for individuals making a significant, positive impact on New Jersey. The award, presented at a gala event that benefits Junior Achievement New Jersey, honors business and community leaders who have consistently demonstrated business excellence; visionary, innovative leadership; community involvement, and high ethical standards.
Bowden, who joined PNC Bank in 2009, has served as New Jersey regional president since 2012. Previously, Bowden was the managing director of Wachovia Wealth Management. She began her career as a teacher for seven years in Wyckoff, and authored two children's math books. She has been named among the "25 Women to Watch" by U.S. Banker magazine and was recognized as one of the "Best 50 Women in Business" and "Power 100" by the New Jersey business news publication NJBiz.
In addition to her service on the University Foundation, Bowden is active in a range of community programs. She serves on the board of the Drumthwacket Foundation, as well as the executive committees of the Adler Aphasia Center and the New Jersey Symphony Orchestra. In addition, she is an executive committee member of the New Jersey State Chamber of Commerce and secretary of the board for Choose New Jersey. She holds a master's degree in counseling from William Paterson.