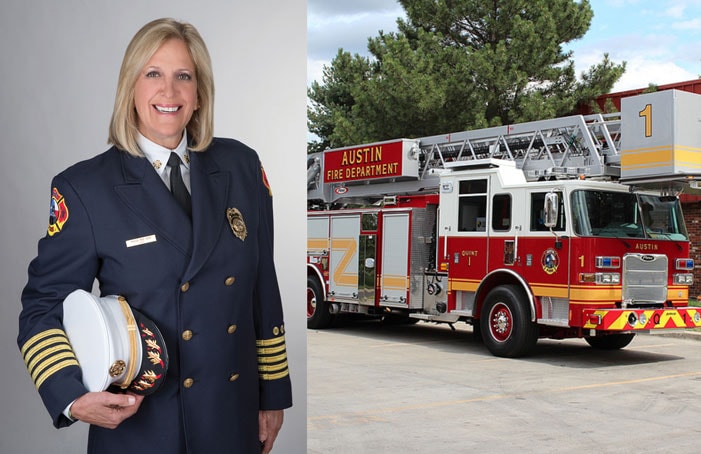 &
Rhoda Mae Kerr '70: Making History at the Top of the Ladder
By Christine S. Diehl
From the rooftops of burning buildings to the pinnacle of her profession, alumna Rhoda Mae (Huber) Kerr '70 has reached uncharted heights in her 33-year career as a professional firefighter. As the first female fire chief of the Austin Fire Department in Texas and the first woman ever named president and chair of the International Association of Fire Chiefs (IAFC), no boundary is too great for her to conquer.
"I was so excited to break the mold," Kerr, a Ringwood native, says of her 2015 election as the first female to lead the IAFC in the organization's 143-year history. She is currently finishing her term as president of the Metropolitan Fire Chiefs Association—a subset of the IAFC which includes full-time fire chiefs from major cities in North America and around the world—to which she was elected in May 2016; she is also completing her term as past president of the IAFC, a role she will hold until this July.
"I didn't really think about it until a friend said, 'Rhoda Mae, you're making history here,'" she says. "I am so proud that I get to leave a legacy for others to follow and be a role model for women who aspire to be career firefighters."
Kerr, who holds a William Paterson bachelor's degree in physical education, initially pursued a teaching career while also coaching high school basketball, volleyball, and track and field. After 13 years, she sought a profession that offered more upward mobility, and decided to train for a career in firefighting.
"When I went to the fire training academy to get my certification, I knew right away that I had found my niche. I also knew that I wanted to be the person in charge one day, and I just kept working on that goal," says Kerr, who is a fourth-generation firefighter.
In 1983 when she was hired at Fort Lauderdale Fire Rescue, Kerr was one of only a handful of female career firefighters nationwide. She was on the job for just three years when she was promoted and eventually rose through the ranks to deputy chief. In 2004, she was appointed fire chief of the Little Rock Fire Department, where she remained until 2009 when she joined the Austin Fire Department in that same position. Today in Austin, she oversees 1,200 personnel across 46 fire stations and seven additional work sites.
Kerr feels that her background as a teacher and coach prepared her to be in charge. "In the classroom or on the field you need to make decisions and have a commanding presence. The same is true here. You need to establish respect from day one."
In her years as fire chief, Kerr has strived to make the profession more accommodating to women. Efforts include replacing the term "fireman" with "firefighter," revamping aging fire station locker and restroom facilities to serve a mixed gender workforce, and investing in fire protection turnout gear designed to fit women.
Under Kerr's leadership, the Austin Fire Department has hired and promoted more women than ever, and she is proud that her example has fostered a positive environment for women.
"Firefighting is a family-friendly career, with maternity leave and flexible work hours. We've come a long way and we have a good culture," she says.
Kerr continues to have significant influence at the national and international level. In December, she was appointed by President Barack Obama to the National Infrastructure Advisory Council, a 30-member committee drawn from private industry, academia, and state and local government who advise the President on the security of critical infrastructure sectors.
She also has had the opportunity to attend conferences across the globe and speak with aspiring firefighters.
"For these young firefighters to see a woman as a leader is one of the most impactful experiences," she says.
As a trailblazer in the U.S. fire service, Kerr has pushed for such fire safety measures as a "Zero Fire Deaths" campaign, the installation of residential sprinklers in all new construction, and working smoke alarms in every home.
Last year, the Austin Fire Department installed 2,600 free smoke alarms; 278 of those were installed in just one day, in conjunction with the Central Texas Chapter of the American Red Cross. "We want to keep up that momentum. It's ingrained that when we go on a call, if the building does not have working smoke alarms, we automatically install them at no cost to the citizen," she says.
For Kerr, a key part of instilling a fire safety culture begins with educating children—a mission that evolved from her days as deputy chief in Fort Lauderdale when she was deeply moved by the tragic deaths of two young children in a house fire. The Austin Fire Foundation was established in 2011 to fund community outreach and public education efforts focused around fire and life safety. With donor funding, she hopes to one day build an interactive children's fire museum in Austin.
"They would learn fire safety rules—like not blocking exits or draping a towel over an oven, and take those home to mom and dad," she says. "We need to spread a fire safety culture in this country. Nationwide, in 2016 we had more than 480,000 structure fires that caused 14,000 injuries and 2,800 civilian casualties. More than 30,000 firefighters were injured on the fireground. If we educate and change the mindset, one day we can get to zero fire deaths."