&
LaBruna Named First Four-Time NJAC Tennis Player of the Year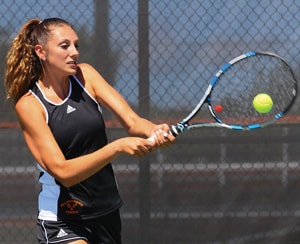 William Paterson senior Brittany LaBruna garnered her fourth consecutive NJAC Tennis Player of the Year award last fall, the first student-athlete in league history to accomplish the feat.
LaBruna also earned a spot on the NJAC All-Singles Team for the fourth straight year (2013-16), and joined freshman teammate Kaworu Ishikawa on the 2016 NJAC All-Doubles Team.
LaBruna was 15-1 at first singles this season, including a 6-0 mark in league play, and secured the New Jersey Association of Intercollegiate Athletics for Women Tournament Flight A singles title on October 9, 2016. She also advanced to the third round of the 2016 Intercollegiate Tennis Association (ITA) Small College Northeast Regional Championship and was named ECAC Co-Player of the Month in October 2016.
LaBruna finished her four-year career with a 67-6 first singles record, including a perfect 23-0 mark in NJAC play. She was the 2013 NJAC Rookie of the Year, and was named a 2013 and 2015 ITA all-American after winning those years' ITA Northeast Regional titles.