&
Striving to Diversify the Teaching Workforce
By Mary Beth Zeman
Francisco Ocasio '10 understands the impact a teacher can have on a student. Ocasio, who grew up in a Spanish-speaking household, did not read until sixth grade, when a dedicated teacher at St. Michael's School in Newark stepped in to tutor him daily. Those experiences fueled his desire to become a teacher, and today the magna cum laude graduate is an eighth grade language arts teacher at New Roberto Clemente School in Paterson, and enrolled in a master's degree program at William Paterson.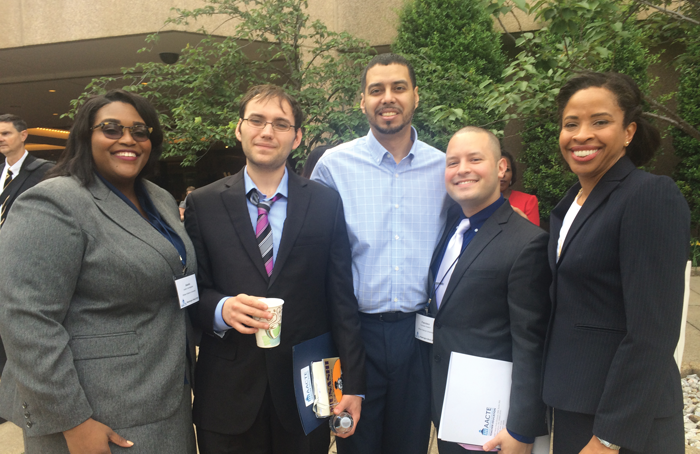 He is also, maybe surprisingly, still a rarity. According to a recent report from the U.S. Department of Education titled The State of Racial Diversity in the Educator Workforce, while approximately half of U.S. public school students today are individuals of color, only 18 percent of their teachers are individuals of color, and only 2 percent are black males.
"The research shows that students need teachers in the classroom who look like them and share common experiences," says David Fuentes, an assistant professor of elementary and early childhood education. "So for us the question is, how can we begin to change that demographic and support students to create that diverse pipeline?"
William Paterson has long been committed to seeking ways to recruit, admit, and retain diverse students interested in teaching. Those efforts are now in the national spotlight, thanks to the University's selection in 2014 as one of 10 institutions across the country invited by the American Association of Colleges of Teacher Education (AACTE), to join its Networked Improvement Community, an initiative to identify innovative and proven strategies to increase the percentage of black and Hispanic/Latino men receiving initial teaching certification through education preparation programs.
"We saw this as a significant opportunity to partner with our colleagues across the country to address this important and urgent issue," says Candace Burns, dean of the College of Education, noting that more than 50 institutions nationwide submitted applications for the prestigious program; those selected, along with William Paterson, include Boston University, Northern Illinois University, and California State University Fullerton. "We knew that we had a core of enthusiastic, committed faculty who wanted to explore ways to make an impact at our own institution and bring those ideas to the larger educational community."
What is a networked improvement community, or NIC? Considered a best practice by the Carnegie Foundation for the Advancement of Teaching, the national education policy and research center, a NIC brings together a group of people who share a similar problem who work together to develop, test, and refine strategies for the improvement of teaching and learning, often leading to innovation and accelerated solutions.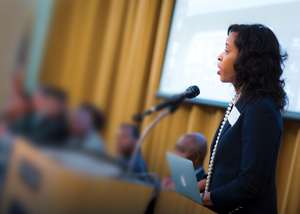 Sharon Leathers
At William Paterson, College of Education faculty saw participation in the NIC as a call to action on campus as well, and an opportunity to engage their colleagues in a dialogue on how the University could address the issue. "We realized we needed everyone's input, from academic affairs and student development to faculty in many disciplines," says Sharon Leathers, MEd '05, instructor of secondary and middle school education, who led the University's participation in the NIC. "What resulted was a great sense of ownership and commitment to addressing this issue."
Activity quickly emerged on a number of fronts. "We wanted to look at the barriers and obstacles our students face and what we could do to assist them," says Fuentes. The College began by identifying male students of color who had already declared their intention to major in education, and invited them to a gathering in Hobart Manor with College faculty who are men of color, including Fuentes; James Alford, assistant professor of educational leadership and professional studies; Kabba Colley, professor of secondary and middle school education; and Anthony Bundy, assistant professor of educational leadership and professional studies.
"The students really served as a focus group," says Alford. "They gave us so much rich information about the challenges they face. They felt William Paterson was the place they needed to be, but sometimes they felt marginalized."
What grew from that initial meeting is the University's Teach-Inspire-Educate (T.I.E.) Scholars Program. The program, which uses a men's tie as its symbol, matches black and Latino male faculty with black and Latino male teacher candidates, providing a source of support for these students.
"One young man articulated that he didn't realize there were male faculty of color in the College of Education," says Alford, who serves as the program's director. "We never thought of how the students might see us. It encourages us as faculty to do better and greater work, to be mentors."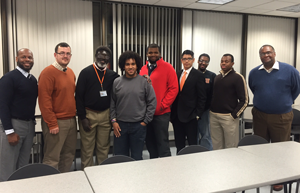 The T.I.E. group
The group, now entering its third year, meets twice a month. Programs focus on a variety of topics, from networking, building an education resume, and workshops on the Praxis, the licensure test for teachers, to team-building and how to dress for success. Students have access to a lounge in the Valley Road building where the College of Education is housed, giving them a place to gather and do research and homework. "It's a way of telling them we hear them and see them," says Alford.
As the partnership between the University and AACTE grew, the University volunteered to pilot an expansion of the Holmes Scholars program, a doctoral-level program of the AACTE that supports under-represented students with mentorships, peer support, and professional development. The program has supported several William Paterson faculty, including Fuentes, Leathers, who is currently pursuing her doctorate, and Djanna Hill, a professor of secondary and middle school education.
"The Holmes Scholars Program has been in place for 20 years, and has been successful in increasing diversity in the candidate pool for faculty in colleges of education, but we were interested in how we could ground the intention of students at earlier levels," says Omar Davis, manager of member engagement and support at AACTE. "William Paterson agreed to be our willing partner in creating a model that would reach students at the master's, bachelor's, and even high school levels. They showed us that the need is now."
The Holmes Programs Network at the University has three segments: undergraduates enrolled in the college's teacher preparation programs (Holmes Honors), in-service teachers in graduate programs seeking to sustain engaging classroom pedagogies and build professional practices (Holmes Master's), and K-12 students who demonstrate a committed interest in joining the field of education (Holmes Cadets).
"The Holmes Programs Network at William Paterson focuses on the original intent of the AACTE Holmes Scholars program, but we are finding that our undergraduates, master's, and even our K-12 Holmes students define mentorship, support, and development in both individual and collective ways," says Leathers, who directs the network at the University. "Holmes is a platform for our students. It is a way for them to continuously explore what being an educator means for them."
For Azaria Cunningham '12, an eighth grade science teacher at New Roberto Clemente Middle School in Paterson and master's degree candidate in higher education administration at William Paterson, being involved in the Holmes program as a master's degree student has been eye-opening. "Being able to share experiences with other undergraduate and graduate students has helped me realize I needed that support," she says.
Cunningham and Ocasio, along with undergraduate students Juan Betancur '16 and Agustin Castillo '17, accompanied Leathers to AACTE's annual Summer Policy Institute in Washington, DC, a week-long gathering of Holmes Scholars. They sat among doctoral students from across the country and listened to leaders from the U.S. Department of Education and other education scholars discuss education policy issues. The students then participated in a "Day on the Hill," as they headed to Capitol Hill for a full day of meetings with members of the New Jersey congressional delegation to advocate for education preparation.
"Many politicians don't understand the issues teachers face," says Ocasio. "My involvement helped me see how much we need teachers in positions of policy in order to make the case for educational resources. It also strengthened my resolve to continue on for a doctorate knowing I have the support of the Holmes program behind me."
The University's Holmes students were also able to attend AACTE's 2016 annual conference for educators in Las Vegas. "I was able to mingle with mentors, as well as graduate students who imparted valuable information, encouragement, and direction in regard to pursuing graduate school," says Maryann Mwenya '16. "It gave me another goal to strive for."
The early success of the Holmes Program Network at the national level is significant coupled with the work taking place on campus. Leathers designed the Holmes Room in the College of Education as a space for students to work and study. Monthly meetings with students have already resulted in changing practice at the College level. Additionally, Holmes students have taken on leadership roles, leading professional development workshops in their self-defined areas of expertise.
William Paterson's pilot of the Holmes program expansion also has spurred nearly 20 additional AACTE member institutions to start their own expansion programs, says AACTE's Davis. "This is truly a credit to William Paterson," he says. "Their students have also participated in interactive forums to talk to other students and have really been the VIPs of this effort, which seeks to address the needs at the K-12 level."
Looking ahead, Davis expects that William Paterson faculty will continue to lead the national conversation as both Leathers and Fuentes will participate in an AACTE commission designed to issue a white paper commission on strategies and best practices.
"This work is a work in progress," says Colley. "We are trying to create an environment where all students can be successful regardless of their backgrounds. We want to show that diversifying the teaching workforce is a benefit to all of us."