Paula Poundstone, Emmy Award-Winning Comedian from NPR's News Quiz Show, "Wait, Wait Don't Tell Me," Will Perform at William Paterson University on March 14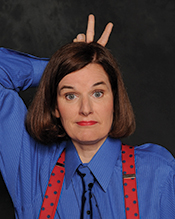 Paula Poundstone
Paula Poundstone, the Emmy Award-winning comedian who is a regular panelist on National Public Radio's weekly news quiz show "Wait Wait Don't Tell Me," will present her standup comedy at William Paterson University in Wayne on Friday, March 14, at 8 p.m. in the University's Shea Center for Performing Arts on campus.
Tickets are available at the Shea Center Box Office in advance at 973.720.2371 or wp-presents.org. Tickets are $35 for Gold Circle seating and $25 for rear orchestra/loge seating.
Poundstone is one of the great humorists of our time. She is the first woman to win the cable ACE for Best Standup Comedy Special and the first woman to perform standup at the White House Correspondents' Dinner. In 2010, she was elected into the Comedy Hall of Fame. A regular panelist on NPR's hit weekly news quiz show, "Wait Wait… Don't Tell Me," she regularly tours the country to perform her stand-up comedy routine.
The author of There is Nothing in This Book That I Meant to Say, Poundstone also has written columns in The Los Angeles Times, Entertainment Weekly, and Glamour. In 2012, she was featured with comedians Whoopi Goldberg, Joan Rivers, and several other prominent women in comedy in a feature-length documentary for Showtime, Why We Laugh Too: Woman of Comedy.
Her newest comedy CD, "I HEART JOKES: Paula Tells Them in Boston," was recorded during a performance at the Wilbur Theatre there and was released on April Fool's Day in 2013. Also in 2013, "NPR Laughing Therapy" (Highbridge Audio) released a two-CD collection of NPR's best interviews and stories including Poundstone's "Talk of the Nation" interview. She is recognized as one of Comedy Central's 100 greatest stand-ups of all time.
Poundstone also has a passion for reading. She serves the American Library Association as the national spokesperson for United for Libraries, the association's "Friends of Libraries" national network, a citizens support group that works to raise awareness and much-needed funds for local libraries.
For additional information, please call William Paterson University's Shea Center Box Office at 973.720.2371 or visit wp-presents.org.
02/28/14