Alumnus Coordinating Research on Robotic Exoskeleton Suit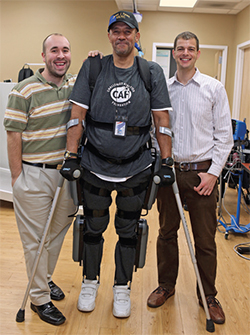 Steven Knezevic '11, MS' 14 (left) with Army veteran Gene Laureano, and Pierre Asseline, a biomedical engineer
A University alumnus who has just completed his master's degree in exercise physiology is involved in a research project on a revolutionary exoskeleton suit that allows paraplegics to walk again.
Steven Knezevic '11, MS '14, who also completed his bachelor's degree in biology at William Paterson, is a research coordinator for a pilot study at the National Center of Excellence for the Medical Consequences of Spinal Cord Injury at the James J. Peters VA Medical Center in the Bronx using the ReWalkTM. The robotic suit consists of two motorized limbs that strap to the legs, hips, and trunk that is powered by a wristwatch remote and a backpack battery.
The suit, which is equipped with motion sensors, allows paraplegic users to stand, walk, and climb stairs.
The research project looks at the medical benefits of the ReWalkTM for paraplegics, ranging from bone density and body composition to cardiovascular impact and energy expenditure. For his master's thesis, Knezevic focused on how the energy expenditure of users changed over time.
"This is the first veteran's hospital in the country where the ReWalkTM is being studied, and it is amazing to be involved in such ground- breaking research," he says. "To see someone walk using the suit for the first time is really very emotional."
Knezevic credits a conversation with Racine Emmons, an assistant professor of kinesiology at the University, as the spark that eventually led to his involvement in the project. Emmons, who serves as a research health science specialist at the Bronx VA Center, suggested Knezevic explore volunteer opportunities there since he was interested in potentially pursuing a degree in physi- cal therapy. His volunteer experience there with the Spinal Cord Injury Research Program resulted in both his master's project and a full-time position with the center.
"I am so grateful for the opportunity I've had to work with this special population, especially veterans. I feel that I'm making an impact in the community," he says. He now plans to continue his education in a doctoral program and eventually hopes to pursue a career as a college professor.
05/05/14