William Paterson Student Awarded New Jersey Heroes Heart of a Hero Scholarship
Sophomore Giovanni DeBelli, a lance corporal in the U.S. Marine Corps, receives $10,000 scholarship
U.S. Marine Corps Lance Corporal Giovanni DeBelli, a William Paterson University sophomore, has been named one of ten recipients of the New Jersey Heroes Heart of a Hero Scholarship.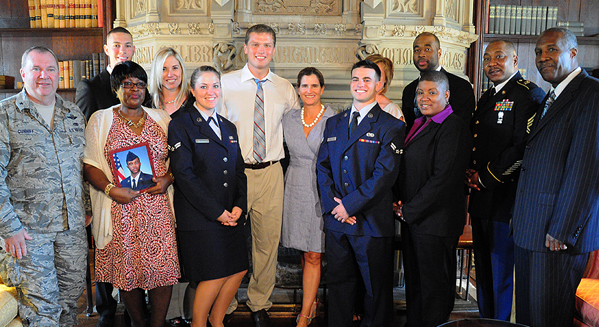 Giovanni DeBelli (second from left, rear) at the scholarship awards ceremony in group with First Lady Mary Pat Christie (seventh from left).

DeBelli, a resident of Garfield, will receive $10,000 toward his education. In June, Walmart donated $100,000 to the program, which is designed to help New Jersey's military service members make their higher education and career goals a reality.
Applicants for the scholarship must be New Jersey residents, have served in the military, enroll as a student at an accredited college or university or a vocational school for the 2012-12 academic year, and demonstrate a commitment to volunteerism and community contribution, in the spirit of New Jersey Heroes, an initiative of New Jersey First Lady Mary Pat Christie that showcases the positive and unique ways people and organizations are impacting New Jersey and their communities.
"Our veterans, past and present, are an extension of our greater New Jersey family," said Mary Pat Christie in announcing the scholarship recipients. "In the spirit of New Jersey Heroes, we are proud to help make a difference in the lives of these outstanding New Jerseyans who have served and sacrificed in he defense of our countries and our freedoms."
# # #
09/12/12