Placing School Principals on a Path to Leadership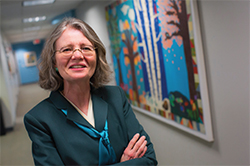 College of Education Dean Candace Burns
By Barbara E. Stoll '93, MA '94
On any given day, school principals and other administrators must juggle ever-changing government regulations, teacher shortages, budgetary concerns, overcrowded classrooms, and safety issues—not to mention the many student, faculty, and program needs that arise as part of the normal course of a school day.
With an estimated 40 percent of today's principals expected to retire in the next decade, according to the National Association of Secondary School Principals, the need for training and support for new school leadership is particularly acute. In fact, a joint study commissioned by the National Association of Elementary School Principals and the National Association of Secondary School Principals found that "approximately half of the school districts surveyed reported a shortage in the labor pool of kindergarten through grade twelve principal positions they were trying to fill that year...regardless of grade level and whether they were rural or urban."
William Paterson University's College of Education is at the forefront of this national issue, thanks to a recent five-year $3.2 million grant from the U.S. Department of Education that will allow the institution to prepare and support educational leaders in partnership with the Paterson Public Schools.
The U.S. Department of Education awarded the grant as part of the School Leadership Program, which supports the development, enhancement, and expansion of innovative programs to recruit, train, and mentor principals and assistant principals for high-need schools and districts. Grantees include school districts, institutes of higher education, and non-profit organizations. The University's project is one of just twenty funded nationwide; William Paterson was the only university in New Jersey to receive funding.
"There are many areas where the Department of Education has been part of the problem," said U.S. Secretary of Education Arne Duncan in announcing the grants. "One area is a huge underinvestment in principal leadership. That's why we're asking for a fivefold increase in funding to support principals and principal development. That, by far, is our biggest 'ask' from Congress. Principal leadership is so critically important, and we want to support principals as they grow and develop. We want to do everything we can to help those great leaders at the local level make a difference in their communities."
Candace Burns, dean of the College of Education, says the University's initiative, called Leaders as Learners, is designed to bridge the gap between teacher and principal preparation and professional development. "All too often, universities prepare teachers and school leaders in separate worlds," she explains. "But today, principals are increasingly called to be instructional leaders, and are mutually responsible with teachers for student achievement."
Over the years, she adds, principals have asked the University for professional development help. "While there has been a lot of support for teachers, there has been less support for principals. However, there are issues that principals want and need to know about," she continues. "This grant is an opportunity to work intentionally to unite teachers and leaders toward student success."
The Leaders as Learners initiative builds on the University's well-regarded Professional Development School program, which addresses the need for professional development for teachers. This model places a University professor into each one of its twelve professional development schools in Paterson (among more than forty in total in New Jersey). This faculty member, known as a professor in residence, is on site in the school for one to two days per week to work alongside teachers helping them plan their lessons and receive the professional development help they need.
"We have seen good evidence of the impact of this model on student achievement," says Burns. "This includes data from our STEAM (science, technology, engineering, art, and math) project, funded by a grant from the Geraldine R. Dodge Foundation, in which a professor in residence with a specialization in art is working collaboratively with science and math teachers to integrate across traditionally separate curricular areas."
Funds from the Leaders as Learners grant will support master's degrees in educational leadership for forty Paterson Public Schools teachers. In addition, the project is designed to support the career progression of educators through mentoring of new school leaders and collaborative planning and delivery of Leaders as Learners Institutes. The grant provides on-site, continuing support for a five-year period to the Paterson Public Schools through an innovative leaders-in-residence program, in which William Paterson faculty who are embedded in Paterson schools will work collaboratively in Paterson schools with professors in residence and with district teachers and leaders to continuously improve school climate, to help retain teachers and leaders, and to boost student success.
According to David Ferrier '00, the grant's coordinator, the first professional development topics for principals, to be implemented this summer, include instructional leadership, data-driven decision making and accountability, community leadership, systems management, and strategies and approaches to meet the needs of English language learners and students with special needs.
Nicholas Vancheri, principal of Paterson's School 7, a middle school that is one of the University's professional development schools, is looking forward to extending the school's relationship with the College of Education through the Leaders as Learners initiative. "This has been a great partnership for us," he says. "It allows us to try something new, and look for opportunities for our students they might not have had otherwise by providing outside resources."
He adds that his greatest challenge is funding state mandates, an area that the University's professor in residence, Joyce Kazoun, assisted with recently. When funds were cut for the world languages program, she stepped in to teach Italian and Spanish classes so the students' learning could continue without interruption. "She made it happen for us," he remarks. "This is just one way the University has helped our school become a source of pride for the community."
Karen Johnson '77, MEd '81, a veteran of thirty-seven years at Paterson's Eastside High School, and currently principal of its School of Government and Public Administration, has had an ongoing relationship with the College of Education for many years. "The University places student teachers into my building," she says. "Here, they get first-hand experience in an urban school district, and the majority of them fall in love with the work and the kids."
She has hired many University-trained teachers as permanent member of her staff. A firm believer in the power of partnerships and building networks, she felt comfortable discussing her ideas for improvement in the training of pre-service teachers based on the needs she found in her school.
"Because our relationship was solid, I knew I could go to the College for help," she remarks. "I suggested that instead of graduating with one certification that the students get dual certification. For example, a student would have a certificate in special education and math. They worked to make that happen. This has helped me hire better trained teachers which benefits our students tremendously."
The new Leaders as Learners grant, with its unique leader in residence program, promises to build on these partnerships to benefit the students, schools, teachers, and principals.
05/01/14