William Paterson University to Present "Doktor Kaboom! Lookout! Science Is Coming!" on February 22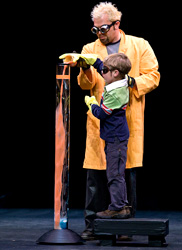 The wonders of science exploration will be on display when William Paterson University in Wayne presents "Doktor Kaboom! Lookout! Science is Coming!" on Saturday, February 22. The performance, part of the University's WP Presents! series, will take place at 2 p.m. in the Shea Center for Performing Arts on campus. Pre-show activities begin at 1:15 p.m.
Tickets are $12 for adults and $10 for children, and are available at the Shea Center Box Office in advance at 973.720.2371 or wp-presents.org.
In a one-man interactive variety show, Doktor Kaboom creatively blends theatre arts with spectacular science experiments designed to engage, excite, educate and entertain. Doktor Kaboom strives to remind audiences of all ages that the foundations of scientific discovery can be joyful tools for a lifetime, to creatively explore the world around us, and realize that science and mathematics are meant to be fun.
For additional information or to purchase tickets, please contact William Paterson University's Shea Center Box Office at boxoffice@wpunj.edu, call 973.720.2371 or visit www.wp-presents.org.
# # #
02/07/14