Paying it Forward: Alumni Aaron Van Duyne '75, MM '08, and Douglas Hamilton '75, Classmates and Friends, Work Together to Advance the University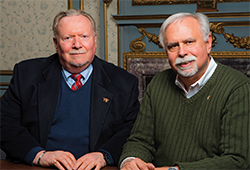 Alumni Aaron Van Duyne '75, MM '08, and Douglas Hamilton '75, classmates and friends, work together to advance the University
By Mary Beth Zeman
When Aaron Van Duyne '75, MM '08, and Douglas Hamilton '75 were students together at what was then William Paterson College in the early 1970s, neither would have anticipated they would be at the helm of their alma mater's philanthropy and alumni engagement initiatives nearly forty years later.
Now, these two alumni—classmates, accounting majors, long-time donors —have come full circle. Van Duyne, in his role as chair of the William Paterson University Foundation, and Hamilton, president of the William Paterson University Alumni Association, are working together to support the University's students, programs, and mission.
Both men are enthusiastic and vocal ambassadors for the University. In fact, during a recent interview on campus to discuss their shared perspectives, they often finished each other's sentences. "We both have the same goal;to get alumni to give back to the University, and to open doors to others who can help us," says Van Duyne.
Their paths to this shared moment are remarkably similar. Both were accounting majors who enrolled in what was then a new program at William Paterson, which was forging new directions as the institution evolved from one focused primarily on teacher education to a comprehensive liberal arts college. "There were about thirty-five accounting majors, so we all had the same schedule and traveled from class to class together," Hamilton recalls. Both laughed as they reminisced about the 1970s-era parking situation, which required them to park in what today is Lot 6 by the Rec Center and trek to the main campus via a long boardwalk path through the woods to Ben Shahn Hall.
"We all worked, so we would run from class to our cars," Hamilton adds. Van Duyne, a Vietnam-era veteran who attended the University on the G.I. Bill, worked as a bartender at a local restaurant. Hamilton, who had earned a full four-year scholarship to the University worth $500 per year, worked at the Fanny Farmer candy store in downtown Paterson.
Today, both are successful businessmen. Van Duyne, a certified public accountant, is a senior principal with Van Duyne, Bruno & Co. P.A., a certified public accounting firm for individuals and entities in the entertainment and sports industries; among his clients are the rock bands KISS, Dave Matthews, the Rascals, and 3 Doors Down, and numerous professional athletes. He is also a founding partner in White Hat Management Services, which offers business management services to the entertainment and sports industries.
Hamilton is the controller and human resource manager for GlobTek, an international electronics power supply manufacturing company.
Their roots at the University run deep. Van Duyne, who began donating to the University not long after graduation, joined the Foundation board in 2000. Long connected to the University's music management program as a speaker and mentor to students, he returned to William Paterson to earn a master's degree in music management and graduated in 2008. Since 2010, he has taught a course in the program as an adjunct professor, sharing his in-depth knowledge of the financial realities of the music industry. He and his wife Jacqueline have endowed the Aaron and Jacqueline Van Duyne Oncology Nursing Scholarship for a full-time nursing student dedicated to oncology nursing, and his company just completed the endowment for the Van Duyne, Bruno & Co. P.A. Accounting Scholarship for a sophomore or junior accounting major.
Hamilton is also a long-time supporter of the University; he has donated to the annual fund since 1980. He has spent the years since graduation on various committees, including the Annual Fund committee, which he served on for five years and chaired for two. He later joined the Alumni Executive Council, which he served as treasurer before taking on the role of president of the Alumni Association. His strong ties to William Paterson also include his son, Douglas Hamilton Jr. '02, who graduated with a bachelor's degree in communication and now works as a business manager for Macy's in Herald Square.
Although the pair did not keep in close touch after graduation, they renewed their friendship as they began seeing each other at various campus events, including Distinguished Lecturer Series programs. Later, they began to interact through their shared positions in support of the University.
Hamilton believes strongly in giving back to the institution, which supported his own education with a four-year scholarship. "I felt I owed something to William Paterson," he says. "I became a donor to the Annual Fund, but even more importantly, I wanted to give my time, because my scholarship was made possible by other alumni who worked hard to provide the money for my own education."
Despite their busy schedules, both are dedicated to spending time in support of the University. "This university has so much to offer, especially to the world of business," says Van Duyne. "We have an accredited Cotsakos College of Business, outstanding programs in professional sales and financial planning, and a state-of-the-art Financial Learning Center. We also have one of the top jazz programs in the country that brings students from around the world."
Both are seeking creative ways to engage the University's more than 67,000 alumni, as well as those in the business community. "There is so much opportunity here," says Hamilton. "We want to engage alumni and draw them back to the University and make them feel they have something to contribute."
Both are seeking to raise funds for the University that will support scholarships and academic initiatives. "When I talk to alumni, especially from my generation, they often ask why we would need to raise funds for the institution," Van Duyne says. "Tuition was low, and the state provided a much greater percentage of budgetary support. We need their assistance to help students with financial need and to enhance our many excellent academic programs."
Hamilton concurs, noting that he was the first president of the Alumni Association to be invited to speak to the graduates at the University's commencement ceremony in 2013. "My message to them was that it's important for them to remember that someone made your education possible and to take the opportunity to pay it forward."
The key, Van Duyne believes, is to bring alumni and friends to the campus, which he describes as a hidden gem. "There's so much activity and there's been such growth since we were students," he says. "It truly is amazing what has transpired here and we want others to join us in seeing all the possibilities for the future."
05/01/14