William Paterson University Galleries Celebrates Artist, Art Historian And Poet David Shapiro with Special Exhibition
The exhibition includes a variety of his artistic works, including paintings and collages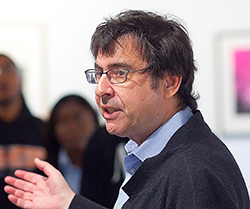 David Shapiro
The distinguished career of the artist, art historian, and poet David Shapiro, who has served as a professor of art at William Paterson University for more than thirty years, will be celebrated with a special exhibition in the William Paterson University Galleries in the Ben Shahn Center for the Visual Arts from January 21 through March 14, 2014. Gallery hours are Monday through Friday from 10 a.m. to 5 p.m., and on January 26, February 2, 9, and 23, and March 2 and 9 from noon to 4 p.m. Admission is free. An opening reception for the exhibition will be held on Thursday, January 23 from 12:30 to 2 p.m.; the snow date is Tuesday, January 28, also from 12:30 to 2 p.m.
The exhibition, David Shapiro: Cardboard and Gold, includes a variety of his artistic works, including paintings and collages created by altering postcard images of artists, poets, artworks or other famous figures from the worlds of music, art, and science. The exhibition also features Shapiro's numerous publications, which include ten volumes of poetry, as well as works of art and literary criticism.
For Shapiro, seeing the connections between various disciplines has been a hallmark of his interdisciplinary career. His approach is grounded in his early exposure to art, music, and science, and was reinforced as an undergraduate at Columbia University, where he was mentored by the eminent art historian Meyer Schapiro, who used literature, psychology, and the sciences to teach art.
"Meyer Schapiro showed me that you should bring to any piece of art that which would release its powers," he has said. "When I teach, it all gets put together—like an opera with so many different parts. To me, poetry and painting and architecture are one, and I try to demonstrate how they all come together."
Shapiro grew up in the Weequahic section of Newark. His grandfather was the famous Jewish cantor Berele Chagy; his grandmother was an avid reader. His mother was a musician and his father was both a physician and a sculptor.
He demonstrated his talent as a violinist and poet at an early age. He trained as a classical violinist and performed with several chamber groups and gave solo performances as a teenager. He published his first poem when he was 16 and his first book of poems, January (1965), at age 18. Four years later, he wrote Poems for Deal, named after the New Jersey town where he was raised.
Shapiro entered Columbia University in 1964 at age 16 with the support and encouragement of poet and professor Kenneth Koch. As a student at Columbia in the late 1960s, he joined the growing number of students protesting the Vietnam War. In April 1968, he was among a group of student protesters who occupied the president's office at Columbia. A now famous photograph of him seated at then-President Grayson Kirk's desk, smoking a cigar, was published in Life and Time magazines.
After receiving his B.A. in English, Shapiro attended Cambridge University as the recipient of Columbia's prestigious Kellet Fellowship. He returned to Columbia and subsequently earned his Ph.D. in English and comparative literature in 1973. Shapiro taught English and comparative literature at Columbia until 1981; he joined the William Paterson faculty in art history in 1984.
Shapiro is associated with the New York School of poets and he co-edited An Anthology of New York Poets (1970) with Ron Padgett. The New York School formed around 1960 including poets such as John Ashbery, Barbara Guest, Kenneth Koch, and Frank O'Hara. Shapiro authored John Ashbery: An Introduction to the Poetry (1979).
His volumes of poetry include A Man Holding an Acoustic Panel (1971), The Page-Turner (1972), Lateness (1977), To an Idea (1983), House (Blown Apart) (1988), After a Lost Original (1994), and New and Selected Poems: 1965-2006 (2006).
In addition to his numerous poetry collections and literary criticism, he has published monographs on artists such as Piet Mondrian, Jasper Johns, and Jim Dine. Altogether, Shapiro has authored 40 books.
Shapiro has received numerous awards and fellowships from the National Endowment for the Humanities (1979 -1980), the National Endowment for the Arts (1980), and the Graham Foundation (1990). He was nominated for a National Book Award for his book, A Man Holding an Acoustic Panel (1971). Shapiro recently received an award from Z Press, Fund for Poetry for recognition of his contribution to contemporary poetry. Poems from his next book, Cardboard and Gold, have begun to appear in different magazines including Boulevard, Poetry, and Vanitas.
He has also collaborated with numerous artists. In 2011, he was one of five poets and five composers who collaborated on The Sanctuary Project, a work commissioned by the New York City-based contemporary music ensemble Lunatics at Large. Shapiro was paired with Mohamed Fairouz, a young Arab American composer, who wrote music based on three sonnets written by Shapiro more than three decades ago. The pieces were performed at Carnegie Hall.
Shapiro also collaborated with the late architect John Hejduk, who served as dean of Cooper Union's school of architecture. In 1991, a poem Shapiro had written about the Czechoslovak student Jan Palach, who set himself on fire in 1969 to protest the Soviet invasion, was engraved on a plaque as part of a memorial designed by Hejduk and mounted on the grounds of Prague Castle in the Czech Republic.
Shapiro says that working in collage has informed his more recent poetry. "I would never have written some of the poems I have without also being able to express myself this way," he says. "More and more, anything I do visually is the sister of what I do verbally." Fifteen of the collages appeared in a 2011 issue of Poetry Magazine, along with his ruminations on life, poetry, art, and music.
The exhibition is one of two on view concurrently in the University Galleries. Graphic Advocacy: International Posters for the Digital Age 2001–2012, on view in the Court and South Galleries, showcases a selection of 122 posters from the first decade of the new millennium. The posters, which focus on a broad range of topics, such as the struggle for peace, social justice, environmental defense, and liberation from oppression, were created by 100 graphic designers from 32 countries.
The exhibition has been made possible in part by funds from the New Jersey State Council on the Arts. The William Paterson University Galleries are wheelchair-accessible. Large-print educational materials are available. For additional information, please call the William Paterson University Galleries at 973-720-2654.
# # #
01/23/14