Pulitzer Prize-Winner Carl Bernstein to Speak on October 12 as Part of William Paterson University's 33rd Distinguished Lecturer Series
--The legendary journalist, who set the standard for modern investigative reporting, discusses the 40th anniversary of Watergate and addresses the current political climate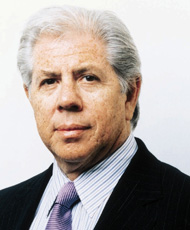 Carl Bernstein, the award-winning investigative reporter and author who shared a Pulitzer Prize for coverage of the Watergate scandal, will discuss the 40th anniversary of Watergate and address the current political climate on Friday, October 12, 2012, at 7 p.m. as part of the 33rd season of the Distinguished Lecturer Series at William Paterson University in Wayne. Bernstein will address weaknesses in the political system and the strength of the media while analyzing the 2012 presidential campaign.
Tickets for the lecture are $25 for the general public, $20 for seniors, William Paterson alumni, faculty and staff, and free to William Paterson University students with valid ID. To purchase tickets, please call the Shea Center Box Office at 973-720-2371 or visit www.wpunj.edu/dls. The lecture will take place in Shea Center on the campus in Wayne.
Bernstein and fellow reporter Bob Woodward broke the Watergate story while working at The Washington Post. Their aggressive reporting on the scandal ultimately resulted in the resignation of President Richard Nixon. Bernstein, Woodward and The Washington Post were awarded a Pulitzer Prize for Public Service in 1973.
After the Watergate burglary, Bernstein and Woodward wrote the book "All the President's Men." The book became a best seller and was followed by another book, "Final Days." Bernstein left The Washington Post in 1977 but continued his investigative reporting on politics and American media. He published articles in Rolling Stone, Time, The New Republic, Vanity Fair and USA Today and worked as the Washington bureau chief for ABC News.
Bernstein continued his career as an author, writing and co-writing books such as "A Woman in Charge: The Life of Hillary Rodham Clinton," "Loyalties: A Son's Memoir," "The Secret Man" with Bob Woodward, and "His Holiness: John Paul II" with Marco Politi. He is often a guest on television news programs and recently published an article comparing Rupert Murdoch's News of the World scandal to Watergate. Bernstein continues to serve as a contributing editor for Vanity Fair.
The William Paterson University Distinguished Lecture Series, now in its 33rd season, provides a campus and regional audience with the opportunity to attend speaking programs featuring world-renowned figures from politics, government, the arts, literature, science, business and sports. The Series provides an inviting setting in which audiences can connect with some of the nation's most interesting people.
# # #
08/28/12